USA: Kansas Practitioners Participate in the Annual Turkey Creek Festival Parade (Photos)
(Clearwisdom.net May 21, 2003)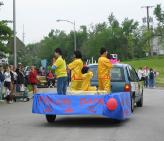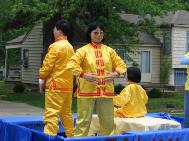 On the morning of May 17, 2003, Kansas Dafa practitioners participated in the 17th Annual Turkey Creek Festival Parade in the city of Merriam. This is the third year that Kansas Falun Gong practitioners have participated in the parade. After careful preparations, the practitioners once again displayed the beauty of Falun Dafa to hundreds of thousands of people.
Peaceful Dafa music awakened people's kind nature. The practitioners' demonstration of the smooth, gentle exercises displayed the beauty of Falun Dafa. In the sunshine, the banner reading, "Falun Dafa" and "Truthfulness-Compassion-Tolerance" in Chinese were especially eye-catching. Wherever our float passed, the people standing along the street gave us warm applause and waved to us.
The activity displayed the strength of one body, as the practitioners worked together to do well in the parade.