Pittsburgh: Dafa Practitioners Hold Petition Drive on Campus on May 13 (Photos)
May 19, 2003 | By practitioners from Pittsburgh, Pennsylvania
(Clearwisdom.net May 15, 2003) To rescue American citizen and Falun Gong practitioner Dr. Charles Li, and Ms. Yang Jingfa, sister of Philadelphia medical doctor Yang Jingduan, Falun Dafa practitioners from Pittsburgh held a petition drive on the campus of the University of Pittsburgh on May 13, 2003, World Falun Dafa Day.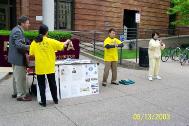 Although the weather forecast predicted rain, the practitioners still decided to spend World Falun Dafa Day, which marked the 11th anniversary of Falun Dafa's introduction, collecting petition signatures, practicing Falun Gong exercises and sending forth righteous thoughts.
Some staff members at the University of Pittsburgh learned that Ms. Jia Xiaomei was released from jail and sent their congratulations to her husband, Dr. Xu Cailu, a research associate at the university. Students who previously signed the petition for the rescue of Ms. Jia Xiaomei were very happy to learn that she was set free. They were eager to sign the petition for the rescue of Dr. Charles Li and Ms. Yang Jingfang. Some students said that they would write to their Congressmen to call for their help to rescue the two Falun Gong practitioners. A professor from the Department of Political Science was very interested in Falun Gong and hoped that he could invite Falun Gong practitioners to hold a special seminar on Falun Gong for his students.
During the process of collecting petition signatures, although sometimes dark clouds covered the sky, and sometimes the wind blew hard, it did not rain. Sometimes, a clear and sunny sky appeared.
In the evening, practitioners joyfully celebrated World Falun Dafa Day and our great Master's birthday. Finally, practitioners studied together Teacher's "Lecturing on and Explaining the Fa at the Metropolitan New York Fa Conference". We all felt that we had a meaningful World Falun Dafa Day, because we spent this special day doing the three things that Teacher required us to do.