Canadian Government Aids in Rescue, Falun Gong Practitioner Lin Mingli Is Released (Photos)
(Clearwisdom.net) On March 26, 2003, Falun Gong practitioner Lin Mingli was set free by the Number Three Qingdong Forced Labor Camp in Shanghai. Mingli is the younger brother of Falun Gong practitioner Lin Shenli, who was rescued from China's labor camp through the Canadian government's help. This morning, Lin Shenli, resident of Montreal, said with delight during an interview: "I just had a phone conversation with my younger brother who is now in Shanghai. He arrived at home at about noon on March 26, Beijing time."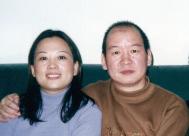 Lin Mingli and his wife
Lin Shenli said that his brother Mingli was secretly abducted by police officers on April 23, 2001 while he was paying his phone bill in his residence complex. For nearly one year while Mingli was imprisoned in the forced labor camp, his wife did not know what he was being charged with, as the police did not provide any legal document. Lin Mingli went on hunger strike for 20 days during his imprisonment in the labor camp to oppose the police's illegal arrest and detention. He was force-fed and as a result, his esophagus was punctured.
| | |
| --- | --- |
| | |
| Canadian Parliament Member Rob Anders expresses that he will help to rescue Lin Shenli's brother Lin Mingli. | Lin Shenli holds a press conference in Montreal asking for the immediate release of his brother Mingli by the Chinese authorities. |
Yang Yuming, from Canadian group of rescuing persecuted practitioners' family members said, "Over the past three years, Canada has successfully rescued 10 Falun Gong practitioners who were persecuted in China. They are: Zhang Kunlun, Lin Shenli, Yang Yueli, Qiu Bo, Zhu Ying, Peng Tianxiong, Qiu Zhaojin, Wu Yanying and Lin Mingli. Over the past few months, Falun Gong practitioners in Canada have been working very hard to demand the Chinese authorities to release Lin Mingli."
Lin Shenli felt that the overseas Falun Gong practitioners' appeal greatly helped his brother to gain his release. He said, "Overseas appeals are extremely important. Outside China, every simple banner and every petition signature greatly encourages Falun Gong practitioners in China. In addition, appeals outside China can help to reduce the cruel torture." He said that after he gained release through Canadian government's help, it was said that all Falun Gong practitioners previously jailed in the Number One Dafeng Forced Labor Camp in Shanghai were transferred to the Number Three Qingdong Forced Labor Camp in Shanghai, where the living condition was not as bad as the former.
During the two weeks prior to Lin Mingli's release, two Canadian Parliament Members wrote to the labor camp where Mingli was held to urge the camp to immediately set Mingli free. On March 20, MP Anders held a news conference at the Parliament in Ottawa together with Lin Shenli and expressed that he would try his best to help rescue Lin Shenli's brother, Lin Mingli.
MP Liza Frulla wrote in her letter, "While I appreciate that it is a sensitive issue to comment on the internal affairs of another country, I would like to add my voice to my colleague, Mr. Irwin Cotler, M.P. for Mount Royal, and other Canadians from across the country who are demanding the immediate release of all illegally held Falun Gong practitioners in China, and decry the continuing violation of human rights that Mingli Lin's imprisonment represents."
MP Anders wrote in his letter, "The Canadian Parliament unanimously passed Resolution M236, which requested the Falun Gong practitioners persecuted in China reunite with their relatives in Canada. Lin Mingli was among the 13 Falun Gong practitioners listed in the resolution. As a Canadian Parliament Member, I call upon the Chinese authorities to immediately unconditionally release Mr. Lin Mingli."
Falun Gong practitioners also conducted news conferences at Montreal and Ottawa on Monday and last weekend, respectively, to call for an immediate release of Lin Mingli.