People from All Walks of Life Appeal to Rescue Charles Li (Photos)
(Clearwisdom.net)
The Maryland Gazette reported on March 5, 2003 that local Falun Gong practitioners were working hard to rescue Mr. Charles Li, an American citizen detained in China by Jiang's Regime.
Students from the non-profit Minghui Language School in Bethesda have started a rescue campaign, writing letters to the President Bush. Tony, a fifth grader and a student of the Minghui School, wrote the following in his letter, "Charles Li is a hero in my heart and also a role model. He always thought first about others in everything he does. I want to a man like him."
Tony's mother is the principal of the Minghui School and also a scientist in a biological research institute in Gaithersburg. She said that she read about the news that Mr. Li was detained in China. Charles Li is her friend and has visited her before. On Thursday, she said, "We were shocked to hear the news of his arrest."
Minghui School students and teachers have appealed in various locations in the Washington DC area, distributing Falun Gong flyers and demonstrating the exercises. They plan to start another peaceful appeal in DC this Friday.
The Minghui School is also collecting signatures and will present them to the White House, The Congress and the State Department.
According to the website of the Chinese Embassy in Washington DC, the Chinese government has arrested thousands of Falun Gong practitioners and sent them to so-called "Re-education Classes".
Falun Gong Practitioners from North and South Meet to Support Charles Li
China Daily reported on March 8, 2003, that five Falun Gong practitioners from northern California traveled to Los Angeles to join other Falun Gong practitioners in front of the Federal Building. They raised banners appealing to the Chinese Government to release Charles Li and stop persecuting Falun Gong.
They started in the Bay Area the day before. They had been to the Governor's office, met with the Congressmen Mary Bonos, Dean Florez, Barbara Boxer and Diane Feinstein and introduced details of Dr. Li's arrest, asking them to help and join the rescue effort for Charles Li.
On Monday, more practitioners from northern California will arrive to continue the effort to rescue Charles Li.
[Insert image: Falun Gong practitioners appeal in front of Federal Building asking American Government helps to rescue Charles Li]
World Journal: Falun Gong Practitioners Appeal to Rescue Charles Li (Photo)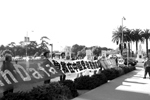 Falun Gong practitioners appealed in front of Los Angeles Federal Building asking US government helps to rescue Charles Li
World Journal reported on March 9, 2003 that a few dozen Falun Gong practitioners appealed in front of the Federal Building on March 7 2003, asking society to be aware of US citizen Charles Li's being detained in China and asking the US government to help rescue him.
Falun Dafa practitioner Charles Li flew from San Francisco to Guangzhou, China on January 22, 2003. He was arrested immediately after landing and is still being held in Yangzhou.
Li's friends expressed their concerns about his safety because the Chinese government uses all sorts of torture to persecute Falun Gong practitioners. Kelly Huang said that over eighty U.S. Congressmen and State assembly members have signed to ask the Chinese government to release Charles Li. Kelly Huang emphasized that as long as Charles Li is still in detention, they will continue rescue efforts through all available channels.
World Journal: Peaceful Sitting Protest (Photo)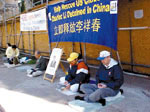 World Journal reported on March 9 2003, a group of Falun Gong practitioners protested by sitting outside the Chinese General Consulate in Houston to ask the Chinese government to release American citizen Charles Li who has been detained for over a month.
A lady told the reporter that this protest and another sitting protest outside of the Department of State in Washington DC were both asking the Chinese government to release Charles Li.
She said that Charles Li went back to China to have traditional Chinese Spring Festival with his parents and to tell them the recent engagement with Ms. Yongqing Fu. But he was arrested as soon as he stepped off the airplane. Charles Li had done research at Harvard University.
Since the arrest, Ms. Yongqing Fu has sought help to rescue her fianc? She believed that China's real reason to arrest Charles Li is that he is a Falun Gong practitioner.