Montreal Dafa Practitioners Condemn the Jiang Regime's Persecution of Their Families on Lantern Festival (Photos)
February 20, 2003 | By Dafa practitioners in Montreal, Canada
(Clearwisdom.net) February 16, 2003 is the day of the Lantern Festival, a traditional Chinese holiday for family reunion. Montreal Falun Gong practitioners held a special activity to express their deep feeling for their loved ones and to condemn the Jiang regime's three plus years' persecution of Falun Gong practitioners and their families. The brutal persecution has forced hundreds of thousands of Falun Gong practitioners to become homeless and many families to be torn apart. We called for the rescue of US citizen Charles Li, who was unreasonably detained when he returned to China to visit his family.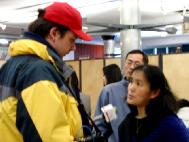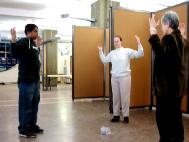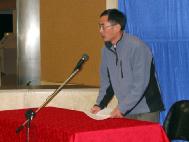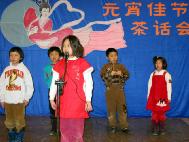 The activity began with a press conference. Reporters from the CJAT TV Station conducted a detailed interview. Members from the Toronto "Global Mission to Rescue Persecuted Falun Gong Practitioners" accepted the interview and discussed the latest progress of global rescue effort. Ms. Li Jinyu, whose relative Dafa practitioner Lin Mingli has been detained in a forced labor camp in Shanghai, also had an interview. She explained to reporters the benefits she has obtained from practicing Falun Gong and talked about facts of the persecution. A Dafa practitioner who had just come to Canada from China shared personal accounts of being targeted by the persecution. These Dafa practitioners and their families have endured tremendous suffering during the persecution.
After the press conference, the practitioners and their family and friends enjoyed some delicious food together. In a harmonious and loving atmosphere, young practitioners performed songs for guests. After that, the practitioners and their family members got on stage and sang together a song "Extending Righteous Hands, Extending Helping Hands," to express their heartfelt wish --- Let's stop the brutal persecution of Falun Gong practitioners in China together.