Falun Gong Practitioners Welcome Wen Jiabao in Washington DC and Call for Bringing Jiang Zemin to Justice (Photos)
(Clearwisdom.net) Washington DC is the second stop of Chinese Premier Wen Jiabao's visit to the US. On the afternoon of December 8, 2003 (US Eastern time) nearly one hundred Falun Gong practitioners lined up in the cold wind and held banners reading, "Welcome Wen Jiabao to the US," "Bring Jiang Zemin to Justice," and "Falun Dafa is good."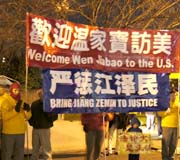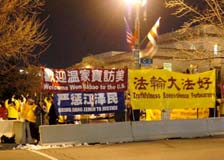 It has been four years since July 20, 1999, when Jiang Zemin launched a political campaign to persecute Falun Gong. Since then, millions of Falun Gong practitioners have suffered brutal persecution. At the same time, Jiang's regime has manipulated the media to frame Falun Gong, and used his power to cover up and block the truth from the world. Not only have people in society been deceived, but many government officials also could not learn the truth about Falun Gong. In order to expose the Jiang regime's lies and stop the persecution, and to let the new Chinese leader learn the truth about Falun Gong, at 5:00 p.m. yesterday afternoon, nearly one hundred Falun Gong practitioners arrived in front of the US State Department to welcome Wen Jiabao, and called for bringing Jiang Zemin, the chief criminal persecuting Falun Gong, to justice.
The organizers of this activity said that in the past four years, the persecution launched by Jiang has brought tremendous pain to hundreds of millions of Falun Gong practitioners and their families. But Falun Gong practitioners have been peacefully and rationally resisting this persecution, and making use of every opportunity to let people benefit from learning the truth. Falun Gong practitioners wanted to participate in this welcoming activity for Wen Jiabao in order to display the truth about Falun Gong and convey people's voices.
Mr. Luu Chaohui, who drove ten hours from Atlanta, said that he used to be a civil servant in China. He was detained for 50 days in 2002 when he went to Beijing to appeal for Falun Gong. His wife Zhou Xuefei was arrested in November 2000 and is still detained today. Mr. Luu traveled around the US to seek help to rescue his wife and won support from many US government officials. Mr. Luu said that today he has come to the State Department to welcome Wen Jiabao to the US, hoping that he can learn the truth about Falun Gong and make a right choice.
Two Western Falun Gong practitioners who went to Beijing's Tiananmen Square about one year ago to tell the Chinese people, "Falun Dafa is good," arrived quite early to the designated place in front of the State Department. One of them said that he had been practicing Falun Gong for four years, and he had benefited tremendously. During the past four years, he had been trying hard to let the public know the facts about Falun Gong. Today he hoped to express a Westerner's point of view to Wen Jiabao: Falun Dafa is indeed wonderful, and the suppression is wrong.
Mr. Ding, a PhD candidate from the University of Maryland said, "We have never been against any government, nor do we have any political agenda. We only want to pursue those who are responsible for persecuting Falun Gong, especially the chief criminal Jiang Zemin, who launched and covered up the facts of the persecution against Falun Gong. Our aim is to set more people free from his lies so they won't assist the evildoers."
Ms. Tao from Maryland believes that time will reveal everything. She has been appealing in front of the Chinese Embassy for a long time. She believes that people who work in the Embassy and those who often pass by will clearly see the truth about Falun Gong as time passes.
Ms. Tao said, "I have been appealing in front of the Chinese Embassy for four years. At the beginning, personnel in the embassy didn't understand me, but gradually they became my friends. Sometimes they silently greeted me when nobody noticed them. I often came to the State Department. Not long ago, I met a lady working in the State Department who asked me about the situation of Charles Li. I told her about Charles Li and countless Falun Gong practitioners in China who are suffering brutal torture. That lady was moved to tears, and she said, "Your effort and sincerity will be rewarded."
Ms. Zhao from Virginia said, "I often meet Chinese delegates and tourists groups near Capitol Hill, and many of them are government officials. They are happy to learn the truth about Falun Gong from me. Because of Jiang's dictatorship and information blockade, many high-ranking government officials do not know the truth."
Falun Gong practitioners participating in the welcoming activity also chatted with other Chinese who came to welcome Wen. Even though many of them were mislead by the Chinese government's propaganda, upon seeing Falun Gong practitioners' peaceful practice and banners and learning about the persecution Falun Gong practitioners suffer, some of them said, "the perpetrator Jiang should be prosecuted."
About 7am, Wen Jiabao arrived at the State Department and left about 10 pm. After visiting the State Department, Wen will visit Capitol Hill and the White House. Falun Gong practitioners will continue to appeal during Wen's visit in the US.