Australia: Melbourne Dafa Practitioners Invited to Participate in Human Rights Day Activity (Photo)
December 18, 2003 | By Dafa practitioners in Melbourne, Australia
(Clearwisdom.net) On the evening of December 10, 2003, Melbourne Dafa practitioners were invited to participate in an activity to commemorate the 55th anniversary of Human Rights Day. Practitioners sang songs composed by Dafa practitioners, including "Coming for you," "Sit by My Side" and others.
The event was held at St. Augustine's Anglican Church, and hosted by the Kingston Human Rights Committee. Ms. Robyn Kilpatrick from Amnesty International, Victoria Branch gave a speech which expressed the importance of safeguarding basic human rights and condemned human rights violations, including the persecution of Falun Gong.
Falun Gong practitioners were among the groups especially invited to give performances during this Human Rights Day commemorative activity. Practitioners sang the songs "Coming for You" and "Sit by my Side" in English and "De Du (Be Saved)" in Chinese.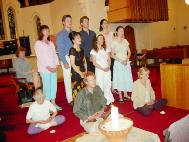 "Sit by my Side"
While singing "Sit by my Side," practitioners lit small candles, and quietly sat in meditation on the stage. The church was immersed in serenity, peacefulness and deep concern for those who are suffering in the persecution. Many attendees were moved to tears.
After the performance, attending government officials and human rights activists had conversations with practitioners to learn more about the persecution of Falun Gong in China. Some who could not attend the activity made phone calls to the practitioners after learning about their evening performance, and said that inviting Falun Gong practitioners to participate this year fit the theme of Human Rights Day perfectly, and the practitioners' performance was excellent.