France: Introducing Falun Dafa at a Health Food and Handcrafts Expo (Photos)
(Clearwisdom.net, December 14, 2003) The annual "Health Food and Handicrafts Expo was held in Grenoble, France from the 22nd to the 30th of November 2003. Falun Dafa practitioners rented a booth to let people know more about the practice and expose Jiang Zemin's ruthless persecution of practitioners in China.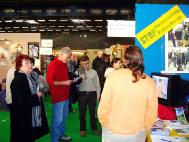 During these nine days, a continuous stream of visitors came to the expo. We distributed over ten thousand flyers and more than one thousand newspapers that revealed the persecution of Falun Gong and information on the lawsuits launched against Jiang and his regime all over the world. Many people signed a petition supporting freedom for practitioners in China.
The majority of visitors was fond of natural food or had some problems with their health. Practitioners had a great opportunity to make a deep impression on them. This environment was different from clarifying the truth about the persecution to people on the street because people had more time to listen to us and ask any questions they had. Some people chatted with practitioners for over an hour near our booth and even learned the exercises on the spot. Some of the other booth owners practiced the exercises with us for several days throughout the whole exhibition.
During these nine days, practitioners experienced the significance of cooperating and communicating well together. After we started to spread Dafa in Grenoble, we met a series of difficulties including funding, materials and manpower. During the exhibition period, practitioners from Geneva came to help as well as two from Avignon. Local practitioners solved the problems of food and lodging. At night, practitioners gathered to share their experiences, study the Fa and send righteous thoughts. Local practitioners received phone calls from many people asking about the free Falun Gong exercise class. After hearing about Dafa at the exhibition, a representative from the local nursery school decided to introduce Falun Dafa to her students with the help of local practitioners.
Source: http://clearharmony.net/articles/200312/16667.html