Chinese Consulate General Hires Thugs to Suppress Falun Gong in US, State Assembly Should Investigate (Photo)
(Clearwisdom.net) To rescue Charles Li and call for an end of brutal persecution of Falun Gong in China, Miss Yeongching Foo spoke at a hearing on hate crimes that California Assembly member Meixin Zhao held. Foo pointed out in her speech that Chinese government's persecution of Falun Gong practitioners in Los Angeles is no different from hate crime.
According to the December 10's report by the World Journal Daily, San Francisco Chinese American Charles Li who supported Falun Gong was arrested at Guangzhou Airport in January 2003 and was sentenced to three years' jail time. To rescue him, his fianc e Yeongching Foo had accepted interviews from over 100 media agencies around US to call for attention of US government. At the hearing presided by California Assemblywoman Meixin Zhao, Foo pointed out in her speech that Chinese government's persecution of Falun Gong practitioners in Los Angeles is nothing short of hate crime.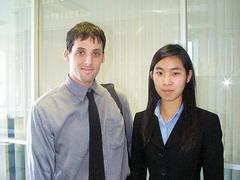 Chinese-American Charles Li's fianc e Yeongching Foo and friend Leeshai Lemish are trying all the means to rescue Charles Li
World Journal Daily report said that Hate Crime or Hate Incident is discrimination or suppression due to victims' ethnic background, sex or religion. Yeongching Foo said that Jiang Zemin's teams involved in various hate crime towards Falun Gong have extended its means of persecution to US territory. Now Chinese Consulate Generals and the Embassy in US hire thugs to harass Falun Gong practitioners. Similar incidents had occurred in Chicago, San Francisco, New York, Washington DC. She hoped California legislation could start investigating the matter.
Yeongching said that her fianc Charles Li boarded flight from San Francisco on January 22 and was arrested at Guangzhou Airport even before he went through the custom and was sentenced to three years' jail time because he was enlisted in Chinese government's blacklist. The evidence she had showed that her fianc suffered both mental and physical torture in jail. Chinese government fabricated accusations and threw him in jail in hope of forcing him to abandon his belief in Falun Gong through brainwashing. This act has no difference from hate crime.
Yeongching also said that the Congress had passed House Resolution 188 condemning Chinese government's persecution of Falun Gong. Now they are pushing for HCR. 304 hoping Congress not only uphold Falun Gong practitioners' human rights in China but also to support Falun Gong practitioners' right of freedom of speech in US. In another word, Chinese consulates in US should not have the right to ask local government to stop Falun Gong practitioners' activities in US or withdraw their supports to Falun Gong.
World Journal article said in the end that Yeongchine was accompanied by Leeshai Lemish, a third year Jewish student of Pomona College Chinese History Department. Leeshai Lemish who started practicing Falun Gong two years ago said that he liked Falun Gong's principle of "Truth Compassion Tolerance" and the peacefulness the practice brought him.