Taiwan: Undaunted by Typhoon, Bicycle Tour Visits Hualien County and Gains Support from Local Residents and Government Officials (Photos)
(Clearwisdom.net) The bicycle tour around the island to "Stop China from Trampling Upon Taiwan's Human Rights" set off from Taipei on October 28, 2003. The tour traveled to Hualien County in eastern Taiwan on November 2. Typhoon Miller suddenly attacked the island, and the fine weather immediately changed to its opposite. Disregarding the rain and wind, Falun Dafa practitioners persistently and continuously conducted a series of truth clarification activities.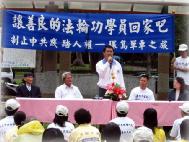 On the morning of November 2, the bicycle tour set off from Taroko Gorge, traveling through Xincheng Township to downtown Hualien. At 2:00 p.m., practitioners held a press conference in front of the Hualien County Government offices. At 4:00 p.m. the practitioners went to Qixing Lake Scenic Area to demonstrate the Falun Dafa exercises and collect signatures. At 7:30 p.m. they held a candlelight vigil to promote respect for human rights at Hualien Citizen Square and won understanding and support from many local residents.
Disregarding the heavy rain before the press conference, many guests and media outlets came to attend. The rain stopped when the press conference began. Attendees condemned the Jiang regime's inhumane persecution of Falun Gong and called for the end of China's trampling of human rights and persecution of Falun Gong.
Congressman Lu Bo-ji expressed that he had been puzzled why Jiang's regime is afraid of Falun Gong. Every Falun Gong practitioner looks so kind and healthy. Why does the Chinese regime persecute it so severely, especially in the 21st century? It tramples human rights to such an extent. From newspapers and other media, we read that Falun Gong practitioners in China are subjected to suppression. In Taiwan, such suppressions do not exist. China should be strongly condemned for such an inhumane persecution.
A representative of the Hualien County Government, the director of the Bureau of Society, Su Guo-jen, expressed that Falun Gong is composed of good people around the world, and emphasizes "Truthfulness-Compassion-Forbearance," but suffers severe persecution in China. Former County Councilor Mr. Wang Wen-chao, who is in his 90's, expressed that Falun Dafa is good for society, people's minds and every individual, and requested that Mainland China give Falun Gong practitioners freedom to practice the exercises and their belief and stop the persecution. Mr. Wang said, "I'm also a Falun Gong practitioner."
County Councilor Liu Hsiao-mei expressed that through the incident of Lin Hsiao-kai, what is most precious for a person is freedom and what people should cherish most is human rights. The Mainland's persecution of basic human rights is horrific. If the Mainland continues such an inhumane persecution, it will be condemned by the whole world. The bicycle tour around the island to stop China from trampling upon Taiwan's human rights illustrates the preciousness of human rights and freedom.
County Councilor Chou Li-gen expressed that at an exchange activity between Taiwan and the Mainland, one member of the Taiwan delegation was listed as a person who was not welcome. The person had never been to Mainland China, but he was listed as the person who was not welcome. The reason is that the person is a Falun Gong practitioner. Falun Gong in Taiwan is very popular and positive. Through this incident, we can understand more about Mainland China's persecution of religious beliefs and human rights. We hope that the bicycle tour can gather the strength of Taiwan's people, making our voice heard: "Stop China from Trampling Upon Taiwan's Human Rights".
"Respect Human Rights, Hualien Candlelight Vigil" aimed to expose the most severe persecution of human rights and humanity in the 21st century--the Jiang regime's brutal persecution of Falun Gong--and to demand that China immediately stop the persecution and release all Falun Gong practitioners held in China. A film named "Justice Can Be Restored" was shown during the candlelight vigil, and lawyer Tsai Yun-ching and Professor Hong Ching-yi gave speeches. The biggest Bar Association in Taiwan, "Taiwan Bar Association" prepared a resolution on October 25 and made a joint statement in support of Falun Gong practitioners' international lawsuit against the persecutors in China, and called for the immediate release of detained Taiwan Falun Gong practitioners.