Practitioners Expose the Jiang Regime's Crimes to Indonesia's National Commission on Human Rights (photos)
November 10, 2003 | By Practitioners in Jakarta, Indonesia
(Clearwisdom.net) On November 5, dozens of Falun Gong practitioners, accompanied by representatives of the Jakarta Legal Aid Institute, appealed to the Indonesian National Commission on Human Rights. They exposed Jiang's regime's crimes of genocide and interfering in Indonesia's internal affairs. The appeal attracted attention from all circles. Reporters from more than 10 media outlets attended and reported the event.
At 11 am, the deputy director of the Watchdog Committee of the National Commission on Human Rights showed up at the appeal to meet with practitioners and hear their appeal.
Several practitioners spoke, and with great detail they explained the situation in China to the Indonesian National Commission on Human Rights. They talked about how the Jiang regime adopted the policy to "defame their reputation, bankrupt them financially, and destroy them physically" . The practitioners consequently have suffered from the most brutal persecution. To date, it has been verified that more than 800 Falun Gong practitioners have died as a result of the persecution, while millions have been inflicted with great suffering.
From their personal experience, Indonesian Falun Gong practitioners testified that Chinese embassies and consulates have been exerting pressure on other governments. For example, in order to prevent Falun Gong from spreading in Indonesia, they interfered in activities such as experience sharing conferences, parades and Falun Gong workshops organized by Indonesian Falun Gong practitioners. They have distributed many slanderous materials to deceive local Chinese, to incite hatred toward Falun Gong and create conflicts among local Chinese.
Practitioners appealed to the Indonesian government to not believe the Jiang regime or to bend to its pressure. They also extended an invitation to all social organizations and kind-hearted people to join the righteous campaign to bring Jiang Zemin to justice worldwide.
The deputy director expressed his concern over the issues practitioners raised. He said that he wrote a letter to the Minister of the Interior several months ago, and he would write to the Ministers of Foreign Relation and Interior and the Chief of Police to convey the Indonesian practitioners' appeal.
A lawyer from the Legal Aid institute also spoke at the appeal. He said that Indonesia has freedom of speech, assembly and belief according to Indonesian laws. Indonesia is an independent nation, and the government should protect the legal rights of its citizens. He said that his institute would provide legal assistance to Falun Gong practitioners in the process of obtaining support from the government to protect their own legal rights.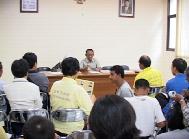 Jakarta Falun Gong practitioners expose Jiang Zemin's crimes to Indonesia's National Commission on Human Rights
á
Falun Gong practitioners appealed to the Indonesian government to not believe Jiang's regime's lies or to bend to its pressure
á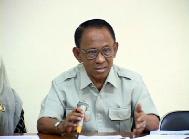 A Human Rights Commission official said he would write to the Ministers of Foreign Relation and Interior and the Chief of Police