More Than 100 Falun Gong Practitioners on Hunger Strike in Jilin Prison; Mr. Liu Chengjun on Brink of Death (Photo)
(Clearwisdom.net) October 26, 2003 report: According to a Minghui journalist's report from China, right now more than 100 Falun Gong practitioners are being held in Jilin Prison, and most of them have gone on a hunger strike to protest the ongoing severe torture by prison guards. The lives of those engaged in this peaceful appeal are in danger. It has been verified that Dafa practitioner Mr. Liu Chengjun is on the verge of death.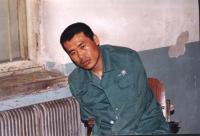 Picture from China News Net April 1, 2002 issue. Blood spots are splattered all over the room where Liu is detained. Obviously, Liu Chengjun cannot sit up in a natural posture.
According to a preliminary investigation by the World Organization to Investigate the Persecution of Falun Gong (WOIPFG), Mr. Liu Chengjun is indeed on the verge of death from torture at Jilin City Prison. The perpetrators sent him to the comprehensive unit of the City Central Hospital. Currently, Liu Chengjun is unconscious, and the hospital is asking his family to take him home because it does not want to take responsibility for his death.
WOIPFG has learned Liu's family is currently under surveillance by the police, who wish to prevent them from revealing the truth to the outside world.
Police illegally arrested Dafa practitioner Mr. Liu Chengjun from Changchun City because of the TV signal-tapping incident that took place on March 5, 2002. He was sentenced to 13 years. It was learned through a reliable source that in Jilin Prison, prison guards beat and tortured him to the brink of death. The guards were afraid to take responsibility for Liu's endangered life, so they sent him to the City Chinese Medicine Hospital and notified his family to visit him there.
It was learned that as of now, the torture has deformed Liu Chengjun's body and he can hardly speak. He could die at any time, yet the persecution is continuing. Liu Chengjun's family asked the prison authorities to release him, but the prison not only refused, the authorities demanded money from Liu's family, claiming, "Even if Liu dies, his death would have nothing to do with the prison." When the family firmly said, "When he came in, he was fine, now he is like this. If he dies, we absolutely will not let you get away with it." The police loosened up, but they sent the family on a bureaucratic run-around among various departments and have not the least bit of sincerity to resolve this issue.
The details await further investigation. We hope people who know the truth about this incident will provide us with additional information.
Mr. Liu traveled to Beijing to lodge a formal appeal against the banning of Falun Gong with the Central Appeals Office. Upon making his appeal in September 1999, Mr. Liu was subsequently sent to the Changchun Fenjin Labor Camp for one year of forced labor. In July 2001, he broke out of this labor camp with righteous thoughts and immediately immersed himself back into the current of Fa-rectification by clarifying the truth and offering salvation to people. In October 2001, Mr. Liu traveled to Tiananmen Square and unfurled a banner reading, "Falun Dafa is Good." He was arrested by police and released after staging a 22-day hunger strike. On March 5, 2002, Liu Chengjun cooperated with fellow practitioners and successfully aired two truth-clarification videos, "Falun Dafa Around the World" and "Self-immolation or Staged Act" in Changchun and Songyuan, which shocked the head evildoers. The people reacted strongly and the act strongly suppressed the evil.
On March 24, 2002, police abducted Mr. Liu from the home of his relatives in Songyuan City. A police officer shot him in the thigh and burned his hand. While sending Liu Chengjun to Changchun City, the police's car overturned on the way and some officers were injured. This was retribution for the police, but they not only didn't admit it, they blamed Liu Chengjun and sent him to the notorious Jilin Provincial Police Hospital (also called Labor Camp Hospital) to be persecuted. (For the detailed report, visit http://www.clearwisdom.net/emh/articles/2002/5/28/22524.html)
From September 18 to September 20, 2002, the persecutors illegally sentenced him to 13 years in prison on trumped-up charges. Mr.Liu was sent to Jilin Prison, also called Jilin No. 2 Prison. During the trial at Changchun City Intermediate People's Court, a large group of police brutally beat the practitioners being tried and shocked them with electric batons to prevent them from upholding Falun Gong. After the trial, Liu Chengjun was carried into a cell. (For the detailed report, visit http://www.clearwisdom.net/emh/articles/2002/12/9/29522.html) During the time he was detained at Jilin Prison, Liu Chengjun was often brutally beaten and tortured like many other Dafa practitioners.
Since 1999, Dafa and Dafa practitioners have suffered blatant persecution in Mainland China; however, the government has been covering up and decorating the brutality and scope of the persecution with various lies. People who don't know the truth have overlooked and are still overlooking it. Dafa practitioners have given up the peace of their personal lives and risked their lives to whole-heartedly clarify the truth, in order to reduce the persecution and to free people from deceit of the lies, so they can live an open and dignified life. They are doing it so the principles of Truth-Compassion-Tolerance will be respected and acknowledged, as they should be, in human society.
Imagine, can a country that doesn't allow people to speak the truth and that makes a connection between Truth-Compassion-Tolerance and bloody murders through propaganda truly become strong and obtain approval from the international community? How can such a society walk toward stability and a bright future, as people kindly hope? Do we want our children to live in a society filled with lies and violence? Shouldn't people who speak the truth, who persist in speaking the truth and persist in following Truth-Compassion-Tolerance receive physical and moral support from all of us?
We hope that Dafa practitioners in Jilin City can send forth righteous thoughts together to eliminate the evildoers persecuting Liu Chengjun, so he will walk out of the demon's den as early as possible. We should also add the thought of eliminating the evil in other dimensions that persecutes Dafa practitioners who are illegally detained at Jilin Prison, at 7:00 p.m., 8:00 p.m. and 9:00 p.m.
Phone numbers and addresses: City Central Hospital phone number:
City Central Hospital Office: 86-432-2452391
Hospital Head: Zhang Wenhou
Main switchboard: 86-432-2456181
(Please dial the main switchboard then the 4-digit extension number below)
Comprehensive Unit where Liu Chengjun currently stays: 2558
Hospital Head: 2001
Deputy Head: 2182
Party Secretary: 2004
Surgical Section of the In-patient Department: 2271
Internal Medicine Section: 2272
Digestive Diseases Section: 2335
Respiratory Section: 2336
No. 1 Neurology Section: 2338
No. 2 Neural Section: 2340
In-patient Division: 2352

Jilin Prison in Jilin Province:
No. 100 Junmin Road, Jilin City (Zip: 132000)
Main switchboard: 86-432-4881551
Education Section: 86-432-4881511 ext. 3040
Prison Affair Section: 86-432-2409418
Prison Prosecutor: 86-432-4881515
Fax: 86-432-4881559

Jilin City Chinese Medicine Hospital:
No. 45 North Street, Jilin City (Zip code: 132011)
Main switchboard: 86-432-2027049
Office: 86-432-2024200
More phone numbers:
Jilin Province Prison Administrative Bureau: 86-431-2750068 / 2750072
Prison Administration Division: 86-431-2750062
Penalty Execution Division: 86-431-2750063
Appeals Office: 86-431-2750100
Disciplinary Inspection Monitoring Office: 86-431-2750057
Mailing Address: No. 46-1 Xinfa Road, Changchun City, Jilin Province
Zip code: 130061

(Translated on October 27, 2003 from
http://www.minghui.ca /mh/articles/2003/10/26/59542.html
http://www.minghui.ca/mh/articles/2003/10/27/59592.html)