The Brother of a Falun Gong Practitioner Persecuted in China Speaks Out: "Exposing the Truth of the Persecution Is Helpful to Our Relatives" (Photo)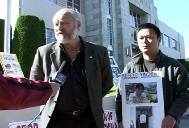 Canadian MP (left) attends press conference to support Mr. Yingyi Chen (right) and Falun Gong practitioners' appeal, asking the Chinese Regime to release Mr. Chen's sister
(Clearwisdom.net October 17, 2003) Mr. Yingyi Chen is a resident of British Columbia Province. He immigrated to Canada many years ago and is a Canadian citizen. He has a stable job, a happy family, and his everyday life is very quiet and orderly. However, recently his family member's plight in China has disturbed his life and is a source of great anxiety.
According to epochtimes.com, his sister Yinghua Chen, a resident of Zhejiang Province, China, was detained by China's public security bureau. She was force-fed and might even be sentenced to prison for years. Despite all the rescue efforts of her relatives in China, her situation has not improved. Mr. Chen then decided to speak out about his sister's suffering from the persecution. On October 14, together with local Falun Gong practitioners, he held a press conference in front of city hall to appeal to the Canadian government and people to rescue his sister. Local newspapers, radio and TV stations attended the press conference and covered this event.
When interviewed by a reporter of Epochtimes, Mr. Chen said that the Mainland Police allowed his sister to be bailed out to wait for trial the day after the press conference. Mr. Chen expressed gratitude toward the Canadian government and emphasized that one must stand up to appeal when he or she is being persecuted.
Below is the interview of Mr. Yingyi Chen by a reporter of Epochtimes:
Reporter: Can you talk about your sister's current situation?
Chen: First, I would like to thank all the media and the Canadian Government for their support and for speaking out in support of all Falun Gong practitioners who have been persecuted by the Chinese regime. Yesterday, I just heard that my sister was released, though it is just a temporarily bail out as she awaits trial. Two weeks later, she will be held again for trial. Before our rescue effort, my sister had been on hunger strike for a month. My family members also requested that the public security bureau allow her to be bailed out for the sake of her extremely fragile health condition. But the police refused our request. Including the Public Security Division of the Zhejiang Province, all the police said that they wouldn't release her no matter how weak she was. When my family members and I had no other choice, we decided to appeal abroad to rescue my sister. My appeal was supported by overseas media. The day after the media here published my appeal, the local Public Security Bureau in China saw my appeal and they were very scared. They went to threaten my father and brother-in-law. The police said, "He can't come back to China anymore and the Canadian government won't speak out for his sister because his sister isn't famous enough." However, they have now released my sister. Why is there such a change? I think it is the result of our overseas appeal. Therefore, I feel that one must stand up to appeal when he or she is being persecuted.
Question: Mainland Media said the Government has "educated Falun Gong practitioners with great compassion." From your sister's personal experience, what do you think is the real situation?
Chen: The mainland media says that the Chinese Regime "educates Falun Gong practitioners with great compassion." I don't believe that. However, I don't know to what extreme their inhumane treatment has reached specifically. Since my sister was arrested last August, for a long time, they didn't allow my family members to visit her. I don't even know why she was arrested. In the beginning of October, it was October 5, they allowed my father and my brother-in-law to go to Hangzhou City Qingchun Hospital (a prison hospital) to visit her because my sister started a hunger strike in the detention center and they couldn't get any information out of her. The police hoped that my father and brother-in-law could persuade her to stop the hunger strike. At that time, my sister appeared to be very skinny, yet everything else appeared to be OK., and she was not handcuffed. The nurse said they just gave her a lot injection of nutritional fluids the day before. Therefore, my father and brother-in-law were deceived and tried to convince my sister to stop the hunger strike. My sister didn't accept their advice. Because the police were supervising the visit all the time, she didn't talk much. When my father and brother-in-law returned to the police's office, from the TV monitor he could see that my sister was being tied back to a bed. She was handcuffed and shackled again for another force feeding in the bed. Later we learned that force-feeding involves inserting a tube from the nose into the stomach and sometimes it won't be removed for many days, which could cause stomach bleeding. The Chinese regime lies, saying that practicing Falun Gong harms people, but as a matter of fact, their persecution is really the thing that harms people. Therefore, my father told me that I must tell the real story to the public from abroad.
Question: Since your sister started to practice Falun Gong, do you feel that she has experienced some changes?
Chen: I feel that my sister's personality has changed significantly. She became more mature and happy. Whenever there was a conflict, she always looked inward and became very considerate to others. When we were together before she started the practice, we always had some conflicts between her and myself. I always felt that she was too lazy and did things too slow. I went back to China once at the end of 2000, and I felt my sister was very cordial and very kind. As a result, I think that one can become more mature after practicing Falun Gong, and this is very good. After one finds one's belief, one will live very happily.
Question: Abroad, there are many people like you whose relatives in China are being persecuted because of practicing Falun Gong. However, there are very few who stand up to appeal for their relatives. Would you like to say a few words to these people who have a similar experience to you?
Chen: Here, I would like to share my own experience with other overseas Chinese who have a similar experience to me: The Chinese regime's persecution against Falun Gong is the most heinous. You know, if this kind of thing has happened to your relatives, you should expose the persecution for sure. Speaking out is helpful to your relatives. Because your appeal is righteous, overseas people, governments as well as the media will all appeal for you because they have the righteous will. I know the Chinese regime will be restrained once they hear the appeal. When the voice of this kind of righteous appeal becomes louder and louder, the Chinese regime will stop persecuting Falun Gong for sure.
Question: If a similar persecution happens to other Falun Gong practitioners, will you appeal for them?
Chen: I will certainly participate such activities, because the persecution not only happened to my family members, but is actually very common in China. Because there is no freedom of the press in China and they (Falun Gong practitioners) can't go anywhere to appeal, we overseas Chinese have an obligation to appeal for them.