Australian Resident Requests Help to Rescue Her Two Illegally Detained Sisters (Photos)
October 16, 2003 | By Practitioner from Sydney, Australia
(Clearwisdom.net) Australian resident Tao Yuefang's two younger sisters are being illegally detained for practicing Falun Gong. She is urgently appealing to kind-hearted people to offer support.
Her sister Tao Yuefen is gentle and quiet. She was an employee for the Beijing Radio Instrument Factory. Before she practiced Falun Gong in 1995, her relationship with her husband was almost destroyed. Since she began practicing, she lived her life according the principle of "Truthfulness-Compassion-Tolerance" and both her mind and body were purified. A happy family was re-established, and all the family members enjoyed harmony. She took out money from her savings to help her mother-in-law and the brother of her husband who lived in the countryside and had financial difficulties. She bought an air-conditioner and even delivered it personally to their door. The neighbors in the countryside appreciated her being a dutiful daughter-in-law. Seeing her changes after she began the practice, her husband realized that it was Falun Gong that saved their family, so he supported her practice very much.
After Jiang's dictatorship started the cruel persecution of Falun Gong in July 1999, though, tragedies keep befalling this family. Jiang's cruel crush against Falun Gong, which is against China's Constitution, made Tao Yuefen appeal. The crackdown on Falun Gong includes defaming and fabricating propaganda in all the media, financial persecution by dismissing practitioners from their jobs and fining practitioners, as well as facing various torture methods by agents from the "610 Office" and its policemen. That is why many practitioners including Tao Yuefen went to relevant government departments to appeal in legal ways. But what she encountered was the same as that of millions of Falun Gong practitioners found to be happening to them: illegal arrest, detention, and being sent into brainwashing classes, all the possible physical and mental torment. Even after she had returned home, her whole family still could not enjoy a peaceful life. Policemen and strangers often broke into their house and harassed them with various means. Ms. Tao Yuefen had no way out but to leave her husband, her 14-year-old child, and her 80-year-old father to escape further persecution. She was again illegally arrested on May 17, 2002 and sentenced to one and a half years of forced labor without any legal proceedings. She is detained in Team No. 3 of Beijing's Daxing County Women's Forced Labor Camp (Post code: 102609, switch-board: 86-10-6027-5858).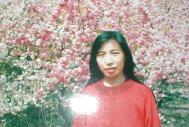 The youngest sister, Tao Yuelan, 47 years old, started to practice Falun Gong in 1995, and experienced the mighty power of Falun Gong for improving people's morals. Since the persecution began in July 1999, Tao Yuelan appealed many times to relevant government departments and was arrested and beaten many times. Later, she could not have a peaceful life even when she stayed at home. Her house was often broken into at night. The policeman even violently pushed her husband who had heart disease on the ground, and took her away from her husband's arms, which were tightly holding her. Under such circumstances of having nowhere to escape to, she had to leave her very young child and ill husband, wandering around from place to place to avoid further persecution.
The mental and financial pressures she had suffered are hard to imagine. Unfortunately, two years later, in April 2003, she was illegally detained again. She was illegally sentenced to eight years of incarceration on June 4, 2003, and was detained in Beijing City Jail. Her specific location is said to be Ward No. 7, Teenage Detention Center, Tuanhe Road in Daxing County, Beijing.
To get to Beijing City Jail, one can take No. 957 Bus at Beijing Train Station, get off Tuanhe Farm and walk to south for 500 meters (1,500 feet). The PO Box is 219-7, and postal code is 102600, Phone number is 86-10-6129 4194 ext 6037.