In Memory of My Fellow Practitioner Kang Ruizhu (Photos)
(Clearwisdom.net)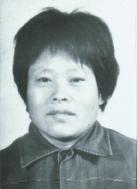 I first heard of Ruizhu from my elder sister. At that time I was told that she distributed many truth-clarification materials, Clearwisdom articles and Teacher's new articles.
The first time I met her was in a vegetable wholesale market in the middle of September 2002. She looked dignified, upright and compassionate. In our simple conversation, she showed her steadfastness as a veteran practitioner. Listening to her talk in a sincere and forthright tone, I deeply felt her determination and maturity as a practitioner.
I was sure that amidst the evil force's persecution against Falun Dafa, she would step forward to tell people the facts, expose the defamation against Falun Dafa, and help save the lives poisoned by the Jiang regime's poison.
In mid-November, as I read the report on Clearwisdom about Kang Ruizhu's death as a result of the police torture ("Falun Gong Practitioner Kang Ruizhu Dies at Pingshan Police Station in Hebei Province", http://www.clearwisdom.net/emh/articles/2002/11/11/28637.html), I felt deeply grieved. The short talk we had became our unexpected farewell.
Appendix: Kang Ruizhu's Biography
Kang Ruizhu, female, from Xisuzhuang Village, Huishe Town, Pingshan County, Hebei Province
Date of Birth: August 1951
Studied in the village primary school from 1959 - 1965
Studied in Xihuishe middle school from 1965 - 1967
Studied in Xihuishe high school from 1967 - 1969
Farmer from 1969 - 1974
Worked at the First Hardware Plant in Pingshan County from 1974 - 1976
Worked at the Chemical Fertilizer Plant in Pingshan County from 1976 - 2000
Went to Beijing to appeal and was illegally detained by police in February 2000, later fired for practicing Falun Gong and left home to avoid further persecution
Arrested while distributing truth-clarification materials in May 2000, illegally sentenced to forced labor camp, but was refused by the Shijiazhuang Forced Labor Camp
Tortured to death by the police in Pingshan County on October 27, 2002
Written on 1/16/03