"Journey of Falun Dafa" Photo Exhibition Held in St. Louis City Hall (Photos)
September 16, 2002 | By Practitioners in St. Louis, Missouri
(Clearwisdom.net) From September 3 to September 6, 2002, the "Journey of Falun Dafa" photo exhibition was held in the St. Louis City Hall. 140 photos illustrated Falun Dafa's widespread all over the world in the past ten years, and the fact that over one hundred million people in over 50 countries have benefited both physically and mentally from it. The photos also depicted Falun Dafa practitioners in China who have suffered brutal persecution and their journey of peaceful resistance over the past three years.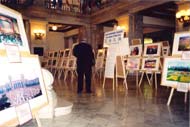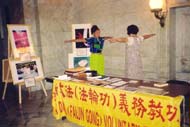 The four-day exhibition drew the attention of staff in City Hall and many tourists. They stopped and watched carefully. After looking at Falun Dafa's widespread in China before July 20th, 1999, they understood Falun Dafa much better. Meanwhile, they were astounded that in today's twenty-first century, in China innocent citizens would suffer such brutal persecution only because they wanted to cultivate themselves and pursue "Truthfulness-Compassion-Forbearance." A gentleman said that he had been paying attention to the development of the Falun Gong issue and said we had done great. Some people wanted to learn the exercises on the spot.
During the exhibition, the mayor of St. Louis Mr. Slay came to visit and shook hands with practitioners. On September 6, the last day of our exhibition, he came over again and said goodbye to us. He said that our exhibition was very successful. He also encouraged us to keep up with our endeavors.
The practitioners also collected signatures on the postcard to be sent to President Bush, calling on people from all walks of life to help end the persecution in China. Speaker of the City Council Mr. Shrewsberry took the initiative to sign his name and said that it was his pleasure to help us.
In order to have the exhibition go smoothly and clarify the true facts of Falun Dafa, local practitioners took turns to explain the facts to the visitors and taught them to do the exercises. On the following Sunday, an officer from City Hall went to the local practice site to learn the Falun Gong exercises.