Female Dafa Practitioner Liu Zhi Tortured to Death in Jinzhou City Brainwashing Center, Liaoning Province; Her Body is Quickly Cremated without Authorization (Photo)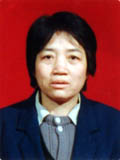 (Clearwisdom.net) On August 20, 2002, police officer from the Jintie police station kidnapped Dafa practitioner Liu Zhi from Jinzhou City, Liaoning Province to the city's brainwashing center. On August 25, 2002, Jinzhou City "610 Office" authorities notified Liu Zhi 's family of her death. Immediately thereafter, the local police department unlawfully cremated Liu's body without any family member's agreement.
Liu Zhi was illegally sentenced to one year in a labor camp and sent to the notorious Masanjia Forced Labor Camp in May 2000. After being released, she was forced to leave home in order to avoid being forcefully brainwashed. This August when she went back home to help her son get ready for college, Liu Zhi was kidnapped to the brainwashing class and severely abused and tortured, resulting in her death. Following is some detailed information:
Liu Zhi, female, 61 years old, was born in May, 1941. She lived in Building 67-73, Jintie Street, Linghe District, Jinzhou City and had started to practice Falun Gong in 1998. After July 20, 1999, she went to Beijing three times to appeal for Falun Gong. She was sentenced to one year of forced labor in May 2000 and was sent to the Masanjia Labor Camp. She was released the day before Chinese New Year's Eve of 2001. In May 2002, she was kidnapped by five policemen from Jinzhou City Police Department. They handcuffed her and interrogated her for a whole day and did not give her any food. They released her at night after confiscating 2,000 Yuan cash from her husband.
Later, the Jinzhou City "610 Office" started kidnapping many Dafa practitioners into brainwashing classes. [Note: The "610 Office" is an agency specifically created to persecute Falun Gong, with absolute power over each level of administration in the Party and all other political and judiciary systems] Liu Zhi was forced to leave home to avoid being further persecuted. Three months after she left home, on August 18th, she went back to prepare the clothing for her college-bound son. At about 8 o'clock in the morning of August 20, Li Changmin (male, over 40 years old), together with 5 or 6 other evil policemen from the Jintie Police Station broke into Liu's home and carried her to the police car, not even allowing her to put on her shoes and coat. They sent her to Jinzhou City brainwashing center located in the yard of the army reserve. If practitioners refused to stay at the brainwashing center, they would be sent to a detention center and then to a labor camp.
At 9:00 a.m. on the 25th, Jinzhou City "610 Office" Director Liu and persons from the local street committee notified Liu Zhi's family that she was dead.
Director Liu told Liu Zhi's husband and son that during night of August 24, Liu Zhi tied a rope to the heater pipe in a rest room on third floor and tried to slide down the rope and escape. The rope broke and she fell to the ground. She was sent to Jinzhou City hospital and died after the emergency care failed. Director Liu said that Liu Zhi had kidney disease before and her kidney was injured again when she fell. Her body was taken to a funeral home. Liu Zhi's husband said that she never had kidney disease and questioned why the family members were not notified immediately during the period of her emergency treatment. He requested to see the accident scene or photos of the accident scene where she had fallen. Other family members requested to see Liu Zhi's body in order to investigate the cause of her death. Director Liu refused all these requests.
Deputy police department chief Zhang Yinggen (male, about 50) forced Liu Zhi's family members to accept the following conditions:
1. Sign the authorization for Liu Zhi's cremation;
2. Accept the assigned funeral route;
3. There would be no funeral awning allowed;
4. Falun Gong practitioners were not allowed to attend the funeral ceremony; otherwise the family members would be responsible for any results.
Zhang Yinggen also threatened that if Liu Zhi's family insisted on investigating the cause of her death, they would cut Liu Zhi's body into pieces. Liu Zhi's husband refused to sign the authorization for her cremation and Zhang Yinggen cursed him loudly. At 3:55 p.m. on August 27, the local street committee notified Liu's husband that her body would be cremated at 4:00 p.m. Because Liu Zhi's family was notified 5 minutes before the cremation, they could not arrive at the cremation place in time. The police ordered Liu Zhi's cremation without her family members' signature and presence. Liu's ashes were never returned to her family.
We hereby raise the following issues and questions:
Liu Zhi's family member said that she never had any kidney disease, but the director of the "610 Office" claimed she had kidney disease, and claimed that when she fell, kidney damage was the cause of her death.
According to the police, Liu Zhi fell down from the third floor and was sent to a hospital immediately for emergency care. If this was so, why then was Liu's body not kept in the hospital mortuary, but was directly sent for cremation?
Why were Liu Zhi's family members not allowed to see her body? Why were her family members threatened not to investigate the cause of her death?
Why did the police cremate her body without permission from her family members? Why were her family members not allowed to be at the cremation site? Why was no funeral awning allowed?
Why did the police request her family members to sign the authorization to agree with cremation? Why did the funeral route have to be set by the police? Why were Falun Gong practitioners not allowed to attend her funeral?
Why did the police notify her family members about Liu Zhi's death on the 25th instead of the night of the 24th when she fell? Why didn't the police notify her family members that she was in danger of dying prior her death?
Why didn't the police allow her family members to see the accident scene or photos of the accident scene?
People who knew Liu Zhi all said that she was a kind person. She did a lot of good deeds, helping others. She once found 400 Yuan on the street and returned it to the Jintie Police Station when she couldn't find the owner. Such a kind person was forcibly sent to a brainwashing class. What is wrong with Falun Gong practitioners being good persons according to the principle of "Truthfulness, Benevolence, Forbearance?" Is it not beneficial to society to have more good people? By kidnapping these good people into the brainwashing classes, did the police want to transform them into bad persons, like those corrupt officials and devilish police?
In addition to these issues, deputy police chief Zhang Yinggen was very rude and verbally abusive when talking to Liu Zhi's husband and son. Liu Zhi was a perfectly healthy person when she was kidnapped by the police. A few days later her family members received the notice about her death. Her family members not only had to suffer the loss of Liu Zhi, but also the abuse from the police. These policemen were paid their salary with public money, but instead assisted the evil forces persecuting kind people. Are they really police protecting people, or are they in fact criminals harming people?