Japan's Dafa Practitioners Peacefully Appeal in front of the Parliament to Rescue Yoko Kaneko (Photos)
(Clearwisdom.net) From July 29 to July 30, 2002, under the scorching sun, Dafa practitioners in Japan held a two-day activity in front of the assembly hall for members of the House of Representatives. They did the exercises and collected petition signatures to rescue Ms. Yoko Kaneko. The activity would last until July 31.
In front of the assembly hall, a six-meter-long, huge banner with blue words on a yellow background could be seen from a distance imprinted with the eye-catching words: "Appeal to the Japanese government to rescue Yoko Kaneko, who was illegally arrested in China." At 8:30 a.m., practitioners began to do the exercises and many of them stayed there until 5:00 p.m.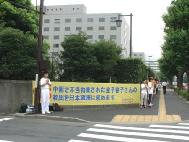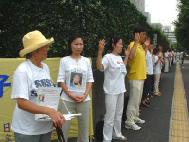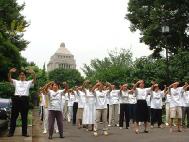 The scene of Dafa practitioners' peaceful and serene exercises left a good impression on congressmen, working staff and people in cars and passersby. Practitioners distributed Dafa information to them and many of them gladly accepted the leaflets and carefully read them. They also showed their concern for the practitioners and said, "It's so hot! You are great. Keep it up."
One touching story about a retired couple is worth mentioning. In the past three weeks, beginning on July 10, come rain or shine, the retired couple would always arrive at the assembly hall around 8:00 AM and hold the banner tightly. They would always stay there until 5:00 PM. One handed out leaflets, and the other collected signatures. When fellow practitioners commended, "You're remarkable," the older practitioner said, "It's nothing compared with the practitioners in China." One group of Buddhists who often peacefully appeal nearby, after learning about the persecution of Falun Gong practitioners in China, felt it inconceivable that there is still such a brutal dictator in today's world. They believed that those who persecute innocent people definitely court destruction. Thus far, Japanese Dafa practitioners have collected over 30 thousand signatures around the country to rescue Yoko Kaneko.