Goettingen Daily (Germany ): Appalling Human Rights Violations --- Amnesty International Supports Falun Gong Practitioners' Protest Activities (Photo)
(Clearwisdom.net) Goettingen Daily, August 19, 2002 - In the afternoon, nearly 60 Falun Gong practitioners marched in the walking section in Goettingen. Their banners and flyers expressed their condemnations towards the persecution of Falun Gong practitioners in China. Falun Gong practitioners introduced that this practice is based on the universal principles of Truthfulness, Compassion and Forbearance. It was banned in China since 1999.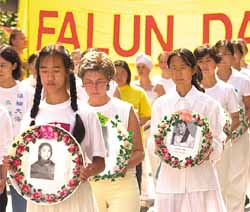 Falun Gong practitioners marching to protest the persecution, their hands holding portraits of their fellow practitioners who were tortured to death.
At the rally held on the Jacobi-Kirchhof plaza, Falun Gong practitioners from Germany told people, "Since then, over 1000 practitioners have been tortured to death for upholding their beliefs." Tillmann Schalzried from Amnesty International strongly condemned "the appalling human rights violations in China." Representatives from the Green Party in Goettingen, from the "Association for the nations under threat" (GfbV) and from Christian Churches all expressed their support to the Falun Gong practitioners. Ungerer, a Green Party member of the city council said, "We can not tolerate the political persecution of a peaceful group."
A representative from GfbV, Delius emphasized, at present, Falun Gong practitioners also encountered situations outside China such as their marching was banned and their traveling was restrained. In June, the Iceland government barred Falun Gong practitioners from entering their country during the Chinese leader's visit in Iceland. While, in Germany, demonstration activities were isolated to areas beyond the Chinese President Jiang Zemin's view. Delius called, "Germany should not remain silent."