Introducing Falun Dafa at the Fair in Erie County, New York (Photos)
(Clearwisdom.net) The annual fair in Erie County in Northwest New York usually attracts over 100,000 people. Local Falun Gong practitioners participated in this year's fair and took the opportunity to introduce Falun Dafa to the American people and clarified the truth about Falun Gong practitioners who are being persecuted in China.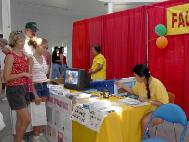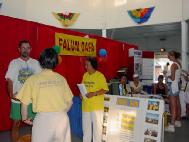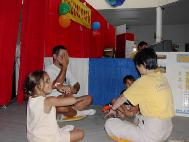 The practitioners set up a booth at the fair, teaching people who were interested to practice Falun Dafa exercises. They also displayed posters to clarify the truth about the persecution in China. One practitioner, who is good at calligraphy and painting, sketched paintings and wrote Chinese characters for visitors.
Some kind-hearted New Yorkers had a quite favorable impression of Falun Dafa. When some of them learned that there was a practice site in the county, they immediately wanted to go to learn the exercises.
A young man came up to our booth and learned to practice the first set of exercises. He said that he felt that the environment was very peaceful and quiet, even though there were many visitors at the time and it was quite noisy.
One doctor liked Falun Dafa very much. He said that when treating patients, sometimes he would feel the presence of an unhealthy field, and he would feel discomfort. He was also looking for some Qigong therapeutics. He said that he was happy to be introduced to Falun Gong. He took many Dafa materials and asked for information about the practice site.
A Taiwanese couple showed interest in Falun Gong and said they had never heard about it until Jiang's regime began to persecute it. They felt that the brutal persecution was unacceptable and not befitting of a civilized nation.
There were also a couple and their two children, who showed great interest in Falun Dafa. The man and his two children learned to practice the exercises on the spot. The wife said, "Truthfulness-Compassion-Forbearance" is a principle that everyone should follow. The man said happily that while in meditation, he felt like he was at a beach and could listen to the tide.