United Daily News (Taiwan): Doctor Ao Man-Kuan Barred from Entering Hong Kong for Practicing Falun Gong (Photo)
(Clearwisdom.net)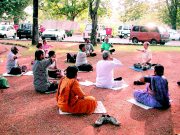 Ao Manguan (upper right) teaching local people to practice Falun Gong in a park in India (provided by Doctor Ao Man-Kuan)
United Daily News reported on July 4, 2002 that Hong Kong authorities have barred dozens of Falun Gong practitioners from entering Hong Kong during recent days, which has aroused debate. In fact, since the Chinese regime persecutes Falun Gong, almost all people related to Falun Gong have been barred from entering. Doctor Ao Man-Kuan in Orthopedics Department, Chenhsing Hospital has practiced Falun Gong for three years and set up association in the hospital. Since his name is on a Mainland blacklist, his twice application to attend medical conference in Mainland was turned down.
Two years ago, Ao Man-Kuan went to Zhangjiajie region on the Mainland and went on a tour with a group from the hospital where he works. Obtaining travel documents and passing through immigration occurred without problems. However, last year his application for a visa to attend the medical conference at Nanjing Chinese Traditional Medicine University was turned down twice. There were over 10 doctors in the group, but only his application was turned down without any reason.
Asked about being the first Taiwan doctor on the Mainland blacklist, Ao Man-Kuan takes it lightly. He said, "There must be gain when you lose."
Ao Man-Kuan is a senior orthopedics doctor. His body is incredibly flexible though he is over 50 years old. While sitting on chair with legs double crossed, he can easily bend his head forward under the chair. The health insurance system was set up seven years ago. Ao Man-Kuan has never used his health insurance card or taken any medicine.
Last month, Ao Man-Kuan learned on the Internet that many Indian people wanted to learn Falun Gong but there were no practitioners available to teach there. He did not think too much about it, and went to India with his wife and two friends at his expense to teach Falun Gong exercises in parks in India. The temperature would often soar over 40 o C, yet they stayed in a small hotel without air-conditioning. They went there twice and taught over one hundred people.