Falun Dafa Photo Exhibit and Zhang Cuiying's Art Exhibit Held in St. Petersburg, Russia, Despite Interference from Chinese Consulate (Photos)
July 05, 2002 | By Falun Dafa practitioner, Zhang Cuiying
(Clearwisdom.net) From June 18 to 22, 2002, an exhibition of my paintings was held in the Artist's Association Exhibition Hall in St Petersburg, Russia. Concurrently, Russian practitioners also held a photo exhibition entitled "The Journey of Falun Dafa."
Even though this was the second showing of my paintings in St. Petersburg, journalists from TV and radio stations still came for interviews. A St. Petersburg TV station broadcast footage of both the art exhibition and the photo exhibition during its evening news program. It mentioned that, "Many Chinese practice Falun Gong", "Artist Ms. Zhang Cuiying was jailed for eight months by Chinese authorities for practicing Falun Gong," and so on. One TV Station even invited me to its recording room to participate in a live, half-hour broadcast.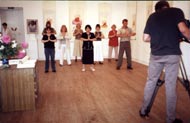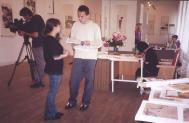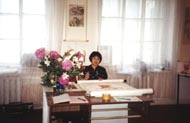 I had heard that many newspapers in China have published untrue stories about me. On the first day of the exhibition, several Chinese people (possibly from the Chinese Consulate) came to the show. When they spotted me on the first floor of the exhibition hall, they panicked, and cried out "Zhang Cuiying!" Wanting to clarify the truth about the persecution of Falun Gong to Chinese delegates attending the "Exhibition of Chinese Books and Culture," I had gone to the book exhibition and invited them to see my paintings. One of the delegates said that the name Caixin (my artist's pen name) sounded familiar to him. In fact, he happened to be the chief editor of Books and Painting, a journal that had published several of my paintings over 10 years ago, for which I had received several awards. Many people have learned the truth about the persecution of Falun Gong in China.
On June 20, the third day of the exhibition, a delegate from Shanghai, China, held an seminar on "Chinese Books and Culture" in the exhibition hall. Representatives from the Chinese Consulate attended the opening ceremony. Facing pressure from the Consulate, the director of the exhibition hall asked us to leave early, before the exhibit closed. We didn't. All the Dafa practitioners in attendance sent forth righteous thoughts to eliminate the evil in other dimensions. I painted a picture entitled "Cleaning Out." Many Buddhas, Taos, and gods in the painting are in the gesture of sending forth righteous thoughts. The exhibit remained open until closing time that evening.
On June 21, the director came to us again and asked us to wrap up early. The practitioners clarified the truth to him about the persecution of Falun Gong in China, while sending forth righteous thoughts. He told us, "I have had to apologize frequently to the Chinese Consulate for your exhibition." He insisted that we must end our exhibition the following day. It was apparent that he had received enormous pressure from the Chinese Consulate.
On June 22, we resumed the exhibition, continuing to send forth righteous thoughts, and welcoming visitors. We did not encounter any more interference. Our exhibition was successfully concluded, as originally scheduled.
(June 23, 2002 / St. Petersburg, Russia)