BBC: China Is On Alert Over Even Stronger Flood Menace Coming This Month
(Clearwisdom.net) According to a BBC report on July 3, 2002, Chinese officials said that an even more severe flood season is coming. In June, more than 800 people have been killed in the floods caused by continuous rains. According to official statistics by the Chinese authorities, about 70 million people were affected by floods in June and more than 700,000 people have been left homeless.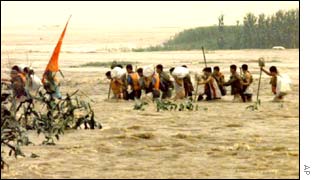 The central and the eastern parts of the Yangtze River are the most severely affected area.
According to China Daily, because rainfalls will increase in July, water levels of the Yangtze River and other rivers may also raise accordingly.
Over the past few days, the third flood peak appeared in Hunan Xiangjiang River area. The water level of Dongting Lake has passed the warning mark. From July 1 to July 2, the water level rose by 4.7 meters.
The water level of the Panyang Lake in Jiangxi Province and the Jiujiang River also passed the flood warning mark.
At the same time, a reservoir at the upper reaches of the Hejiang River in Guangdong Province overflowed, causing the water level to rise rapidly at the Zhaoqing segment of the Hejiang River and induced a major flood. Many villages were flooded and some highways were also inundated.
According to a Chinese official report, Jiangxi Province appropriated emergency funds of 43 million Yuan for rescue efforts and to offer relief to those people who have been left homeless due to the floods.
A Red Cross official said that further flooding is inevitable.
He said: "We are now preparing for what is to happen. Medical regiments have been put on high alert. If an epidemic breaks out, they will head for that area at a moment's notice."
á