Japanese Practitioners Send Righteous Thoughts and Peacefully Appeal to Rescue Yuko Kaneko in front of the Chinese Embassy (Photos)
July 03, 2002 | By a practitioner from Japan
(Clearwisdom.net) On the morning of Sunday, June 30, a few dozen Falun Dafa practitioners from Tokyo, Chiba County, Kanagawa County, and Saitama-ken County gathered at the Chinese Embassy to send forth righteous thoughts. Some practitioners needed to work on Sunday but still made time to join the activity for one or two hours. Practitioners distributed flyers appealing to rescue Japanese Falun Gong practitioner Yuko Kaneko who is now illegally imprisoned in China.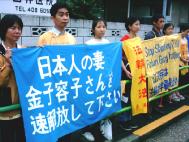 Japanese practitioners appealing to rescue Yuko Kaneko in front of the Chinese Embassy.
Since space is limited in front of the Embassy, practitioners took turns to send forth righteous thoughts there. Others went to a nearby park to study the Fa, practice the exercises, send forth righteous thoughts and exchange experiences. Through experience sharing, we all understand that it is our mission to eliminate the evil elements in other dimensions and to save sentient beings. We made up our mind to do this even better. This activity continued till 10PM, July 1 (9PM, Beijing time).