Truth-Clarification Activity in Peach Garden County, Taiwan on the third Anniversary of July 20 (Photos)
July 25, 2002 | By A Dafa Practitioner in Peach Garden County, Taiwan
(Clearwisdom.net)
Falun Gong practitioners in Peach Garden County held activities including exercise demonstration, free exercise teaching and photo exhibit at Shimen Mountain and on the lawn of Stone Administration Bureau on the afternoon of July 20. A memorial was held on the lawn of the Stone Administration Bureau for those Falun Gong practitioners who died from the persecution in China in their pursuit of truth and freedom of belief. About 300 people participated in these activities, including practitioners and the public. Peach Garden County Council Chairman, Mr. Zhongyi Zeng, sent two flower baskets to express his best wishes. County councilor of Ba-De City, Mr. Yinfu Zheng, delivered a speech.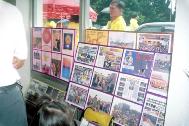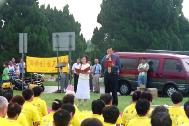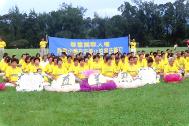 In addition to calling for Chinese leaders to stop the persecution against Falun Gong, Mr. Zheng expressed his intention to join Falun Gong practitioner's exercises in the future. Representative of Taiwan's Falun Gong Research Society, Huangying Liu,said that Falun Gong cultivates "Truthfulness, Compassion and Forbearance", and the five exercises improve health. A devoted student can achieve better health and promotion of higher moral standards within a short time. Falun Gong also helps to build a peaceful and prosperous nation, and overall, will bring peace and hope to society. One hundred million people in over 60 countries practice Falun Gong. It has won more than 600 awards in Europe and America alone.
Falun Gong practitioners at the memorial said the persecution has been carried on for three years and is still ongoing. In the age of globalization, the situation of Falun Gong has become relevant to everybody in this international society. Falun Gong, as a hope of kind people seeking peace and happiness, has been brutally persecuted by the dictator Jiang. This persecution is bringing a disaster to humanity. Countless practitioners have achieved better health, inner peace and freedom through practicing Falun Gong. They hope the day's activities will allow more fortunate people to understand and start learning Falun Gong, and hope the memorial will bring more Taiwanese people's attention to the Falun Gong practitioners being persecuted in China. Let us send our voices of justice together, stop the persecution of Falun Gong practitioners by Jiang's regime and stop this disaster against humanity.