Spreading Falun Dafa at the Cochranville Health Fair in Pennsylvania (Photos)
July 02, 2002 | By practitioners from Delaware
(Clearwisdom.net) On June 22, the First Cochranville Health Fair was held at Cochranville, a town close to the border between the states of Pennsylvania and Delaware. Practitioners from Delaware and Philadelphia came to join this event.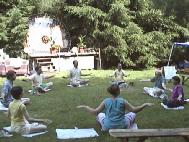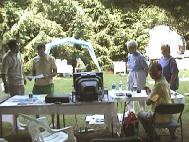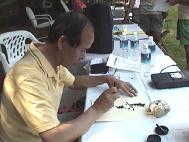 Cochranville is in the farm belt, and there are many kindhearted people there. Since the end of last year, with the help of local people, Falun Dafa practitioners from Delaware have come to hold activities once a week to promote Dafa. This year as summer approached, the local people used their spare time to open up a large area in the forest to prepare for the health fair.
With the help of local residents, the health fair committee invited Dafa practitioners to demonstrate Falun Dafa exercises to the fair attendees. We introduced Dafa to the local residents and demonstrated the exercises. Our practitioners' calligraphy deeply impressed the local people and was warmly received. Some bought Dafa books and some immediately learned the exercises. Practitioners taught the exercises very patiently and the people also learned them very attentively.
This health fair was held on the same day as the Chinese Culture Day in Delaware so we were shorthanded. Practitioners from Philadelphia came to support and thus the problem was solved. Splitting into two groups, we clarified the truth to Chinese people (who are the most severely poisoned by the evil propaganda) and also promoted Dafa to the local people in America. The effects were very good.