"Journey of Falun Dafa" in the Wisconsin State Capitol (Photo)
July 19, 2002 | By a Wisconsin Practitioner
(Clearwisdom.net) The "Journey of Falun Dafa" Photo Exhibition was held successfully in the Wisconsin State Capitol from July 1 to July 14, 2002. The photo exhibition is a good method to "clarify the truth and save the sentient beings". Hereafter we share some short stories with you.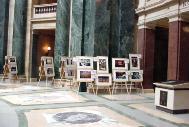 Story 1: The power of Righteous Thoughts
One week before the photo exhibition, two local practitioners contacted the Governor's office to invite the Governor to our opening ceremony and give a speech. We were told that the Governor was too busy to attend the opening ceremony but the Governor could probably write a congratulatory letter and let a representative read it at the ceremony. A few days later, when we came to the Governor's office according to the appointment, a "strange thing" happened. The receptionist looked all over but could not find our record. We told her the persons' name that we contacted before. When she called them, they said they didn't remember. Facing such matter, we understood it must be interference. So when the receptionist kept on searching around, we kept sending forth righteous thoughts. After half an hour, two office clerks came out and apologized to us. They said that there would be a budget meeting on the day of opening ceremony, so no personnel could attend our ceremony, but the Governor decided to issue a proclamation instead of the congratulatory letter.
The Mayor of our city also wrote a congratulatory letter to us.
Story 2: Everyone we met is an audience to our Fa promotion
For this photo exhibition, we displayed over one hundred photos. The day of setting up, we contacted the "building administration office" to borrow moving carts and then borrow the key to cargo elevator, borrow tables, etc. So, after a few rounds, we became acquainted with the policemen in the building and the manager of the office. Of course, they became our audience of truth clarification. At noontime, the manager of the administration office came to view our pictures and asked many questions.
Story 3: "Falun Gong cultivates Xinxing. Very interesting!"
The photo exhibition lasted for two weeks. Every time, when practitioners went there to add truth clarification materials, they could always meet some people viewing the photos. One day, a practitioner met a man from another state who brought the family to tour the Capitol building. He was from Singapore and has lived in America over ten years. He didn't know much about Falun Dafa so he talked with our practitioner for a long time. The practitioner not only clarified the truth to him but also shared her own practicing experiences. When the practitioner told him, "Practicing Falun Gong, the most important thing is to cultivate the Xinxing (moral character). Our Teacher told us to think about others all the time." He seemed quite surprised and said, "Falun Gong cultivates Xinxing. Very interesting!" He talked with our practitioner for nearly half an hour. He finally took some materials and left.
Story 4: "This world can be better. Truthfulness-Compassion-Tolerance can help us all. Thank you!"
The Wisconsin State Capitol is a tourism site for the state. Not only local people but also people from other states and even foreigners like to visit it. Many people signed in our signature book and many people also wrote down their comments. One comment was like this, "Let's work together to make this world full of happiness. This world can be better. Truthfulness-Compassion-Tolerance can probably help us all. Thank you!"