School Teachers in Tainan County, Taiwan Attend Falun Gong Study Course (Photos)
(Clearwisdom.net)
During the summer vacation period from June 20-30, 2002, school teachers of Tainan County, Taiwan attended a Falun Gong Study Course held at the Yuching National Primary School. Attending the course were over 30 teachers and their relatives.
A speech was first delivered at 8:30 a.m. on June 29 by principal Mr. Wang Ching-Cheng.
| | |
| --- | --- |
| | |
| Principal Mr. Wang Ching-Cheng of Yuching National Primary School delivering a speech | Head of Yuching Township making a speech |
Following Mr. Wang Ching-Cheng's speech was a speech given by the head of Yuching Township, Mr. Ye Chih-Cheng. He said that his knowledge of Falun Gong is limited, but since over 100 million people around the world practice, Falun Gong must be a very powerful way to teach people how to be good. He expressed his hope that the teachers would take the lead to teach villagers to learn Falun Gong. He also said that the township government is going to plan to support Falun Gong activities. In the end, he welcomed practitioners to again come and hold similar activities.
At 9:00 a.m., a practitioner played a video of Teacher's exercise instructions, and afterwards, he taught the exercises to the attendees.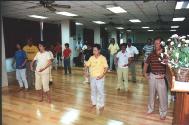 School teachers learning how to practice the exercises
At 1:30 p.m., eight young practitioners demonstrated the five sets of Falun Gong exercises and recited poems of Master Li from Hong Yin. Their wonderful performance won warm applause from the audience.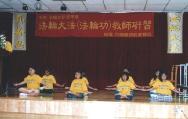 Young practitioners demonstrating the sitting exercise
At 1:50 p.m., Kaohsiung County's Chuangching National Primary School teacher, Chang Chi-Mei, shared her cultivation experience. In her report, she talked about why she took the path of cultivating Falun Gong and told of her positive changes after practicing. She also stressed that Falun Dafa cultivation included both xinxing [mind or heart nature] cultivation and the exercises.
At 3:40 p.m., the practitioner played the "Truth of Self-immolation" and "Falun Dafa's Spreading Around the World" videos. This event concluded the first day's course.
At 8:00 a.m. on June 30, the practitioners taught the second, third, and fourth sets of exercises until noon.
At 1:30 p.m., a practitioner and physician named Cheng shared his cultivation experience with his practice of Falun Gong. He is the chief physician in the orthopedics department of Chimei Hospital, and his wife is also a practitioner of Falun Gong. When he took up the practice of Falun Gong, his wife didn't understand what it really was, and the couple always had friction on the issue of his belief. After his two years' effort though, she finally understood the broad and profound principles of Falun Gong and became a practitioner.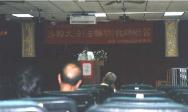 Chief Physician Cheng of Chimei Hospital sharing his cultivation experience
At 3:20 p.m., two videos were shown. One of the videos was about students who, after learning Falun Gong, became better behaved both at school and at home. The schoolteachers were amazed by the power of Falun Gong to teach people how to be good. The other video was entitled: "Peaceful Journey of Falun Dafa."
At 3:50 p.m., the practitioners arranged about 40 minutes for the schoolteachers in attendance to talk about their thoughts and opinions about the two day course. Several teachers were interested in Falun Gong and wanted to know more about the practice.
At 4:30 p.m., the two-day course was concluded in a joyful atmosphere.