Three Cities Join Together on Parliament Hill to Spread Falun Dafa on Canada Day (photos)
July 11, 2002 | A Practitioner from Ottawa, Canada
(Clearwisdom.net) On July 1, Canada Day, Citizens from Ottawa and other Canadian cities got together at Parliament Hill in the capital city. A big performance and other festivities were held here, making it a good opportunity for local practitioners to spread Falun Dafa and clarify the truth to the public.
"The Performance of Spreading Dafa Should be at the most Optimum Location"
The Ottawa practitioner responsible for the permit application realized that this year's Canada Day Dafa-Spreading activity should give people a true picture of Falun Dafa cultivators and let them witness the serenity and goodness of Falun Dafa. A performance and photo exhibition were just two very effective ways. She also enlightened to the importance of the introducing Falun Dafa through the performance by holding it at the most optimum location.
After continuously studying the Fa and sending forth righteous thoughts to dispel interference, she insisted on introducing Falun Dafa and clarifying the truth for the administrator in charge of the activity. She called and told him: "When Falun Gong practitioners were suffering the most cruel persecution, kind Canadian people reached out to them. In 2000, all Canadians helped to rescue professor Zhang. Five political parties later united to rescue Shenli Lin. There were many heart-warming stories... The Canada Day performance was created by Falun Gong practitioners who volunterred to organize it with all their heart. We hoped to find the right moment to present it to the kind Canadian people. The administrator was deeply moved and considered the proposal . He expressed his consent and granted a permit for the most optimum location.
Practitioners Display their Talent in a Performance of Extraordinary Splendour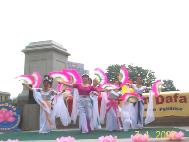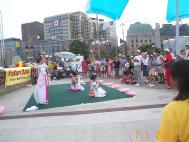 In the early morning of July 1, Canadian practitioners gathered on the east side of Parliament Hill. They gave an excellent performance, broadening the perspective for those not familiar with Falun Gong. The performance included: a dance accompanied by the music "Pudu", a fan dance by Montreal practitioners to the music, "Falun Dafa is Good," and a reading by a young practitioner; Toronto practitioners performed a short drama from the epic, "Journey to the West" using dance, solos, and a chorus; Ottawa practitioners played guitar. During the intermission, Falun Gong practitioners demonstrated the five graceful exercises.
The Cool World under the Burning Sun
The temperature in Ottawa was very high during these activities. Despite the stifling heat, Falun Gong practitioners were still happy and busy: some handed out materials and invitations to those who walked by; some stayed with the photo exhibition to clarify the truth to visitors; some demonstrated the Falun Gong exercises; some took videos and some gave balloons to children.
The most moving act was the Lotus Flower dance made up of practitioners from Montreal. Every time they performed, a crowd engulfed the stage. Under the burning sun they danced for an eager audience again and again. Their feet danced upon hot pavement and they were covered in sweat, but they still wore bright smiles as they moved, light as clouds, flowing like water, bringing people to another world that was pleasant and cool.
Tourists were deeply moved. After one performance, a Canadian woman spoke from the bottom of her heart, with tears on her face: "very beautiful, very beautiful!"
Highlights in Introducing Falun Dafa
Highlight #1: Floating Balloons in the Sea of People
Several hundred colourful balloons were sent out to bring the auspiciousness and goodness of Falun Dafa wherever they went. People watched these floating tokens of truth, reading "Faun Dafa" and listing the Falun Dafa web site.
Highlight #2: The Honourable Governor General Shook Hands with Practitioners, Expressing Wishes
At noon, after prominent government officials gave their speeches, they stepped down to meet the public. Two Falun Gong practitioners expressed their heartfelt wishes as they shook hands. One practitioner said, "Thank you for supporting Falun Gong" The other practitioner told them "Supporting Falun Gong will bring Canadian people a bright future!" and presented the Governor General with a Falun Dafa bookmark.
Feature #3: Loyal Supporter of Falun Gong
In this Hong Fa [introducing Falun Dafa to the public] activity, we found a lot of Chinese people had changed their original position on Falun Gong. They wished to know the truth about Falun Gong. Many people took the initiative to approach the truth clarification material table, asking for newspapers and CD's. Among them, some Chinese students studying abroad ran over especially to take pictures with Falun Gong practitioners. Referring to one of these students, a practitioner said, "He is a loyal supporter of Falun Gong." Many visitors also learned the exercises on site.
Another day of Hong Fa activity had finished, and everyone felt that breaking old concepts and using different formats without restrictions to clarify the truth, especially those formats that people enjoy, had had unimaginable affects.