Joyfully Celebrating "Australia Falun Dafa Day" in Front of the Parliament House in Canberra (Photos)
June 30, 2002 | By Sydney Practitioners
(Clearwisdom.net) Monday, June 24 was "Australia Falun Dafa Day." In order to make full use of the weekend to introduce Falun Dafa and make preparations for the celebration activities on Monday, Falun Dafa practitioners from different parts of the country arrived in advance in Canberra, Australia's capital.
Introducing Falun Dafa in Canberra
Over 40 Dafa practitioners from Melbourne arrived in Canberra early on the morning of June 22; several practitioners from Sydney, the Gold Coast, and Brisbane had who just finished their Eastern Europe trip and returned from Lithuania came to Canberra with haste after they got off their planes. Over 200 practitioners from different provinces of South Australia and Queensland, as well as practitioners from Sydney and local practitioners in Canberra held a series of activities during the two days: they practiced the exercises and spread Falun Dafa in front of the Chinese Embassy, in the center of downtown, and at the National Capital Exhibition. Also, they collected signatures, distributed Dafa truth-clarifying literature and material, and sent forth righteous thoughts at the top of each hour. Some Sydney practitioners held a two-day candlelight vigil in front of the Chinese Embassy during the cold winter night, commemorating the fellow practitioners who were tortured to death in China.
| | | |
| --- | --- | --- |
| | | |
| Practicing the exercises and introducing Falun Dafa at a tourist site in Canberra | A 13-year-old practitioner dances to the song, "Pudu" | Morning exercises in front of the Chinese Embassy |
The arrival of Dafa practitioners brought fine weather to Canberra and drove away over ten-days of rain and cold. The second day, (June 23) it became warmer, and the sun shone brightly. Passersby changed to their summer clothes in the winter.
During the two-day's Fa-spreading activity, the people of Canberra and quite a few Chinese tourists gained deeper understandings of the truth about Falun Dafa and the persecution Dafa practitioners in China have been suffering. People signed the petition to support Falun Dafa on their own initiative and happily accepted and asked for Dafa truth-clarifying literature.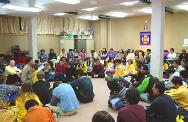 Experience sharing among Australia practitioners
Dafa practitioners also spent the two nights of the weekend studying the series of Teacher's new articles, and freely exchanging their thoughts and sharing their cultivation experiences. The practitioners developed a deeper understanding of Teacher's "Teaching the Fa at the 2002 Fa Conference in Boston." They realized that, at present, one should melt oneself into the entire entity. If every Dafa practitioner can give high priority to the Fa and the overall situation of the Fa-rectification, and can be tolerant and compassionate to others, while at the same time, in the big environment of Fa-rectification cultivation, unceasingly look within oneself and completely clear out "selfishness" and purify oneself, we will form an indestructible diamond-like entity in the Fa-rectification.
Joyfully celebrate "Australia Falun Dafa Day"
June 24 was officially declared "Australia Falun Dafa Day." On the open and broad lawn in front of the Parliament House, practitioners displayed a huge banner with the words, "Celebrating Falun Dafa Day" in English. The blue words on the yellow background were very eye-catching. A large bunch of colorful balloons imprinted with, "Truthfulness-Compassion-Forbearance" was like a rainbow above the banner. On the left side of the banner, ten elegant pictures were displayed depicting the large-scale exercise demonstrations and forming of Chinese characters and English words in past Fa-spreading activities. Stone columns at the two sides of the banner were decorated with bunches of balloons. Behind the practitioners who were practicing the exercises, two Dafa practitioners held two banners with red English words on a yellow background, imprinted, "Falun Dafa, Australia," "Truthfulness-Compassion-Forbearance." Four colorful flags imprinted, "Falun Dafa" "Truthfulness-Compassion-Forbearance" were fluttering in the wind on the left side of the celebration site.
| | |
| --- | --- |
| | |
| Presenting a paper lotus flower to a Member of Parliament (MP) who came to offer his congratulations | A practitioner and an MP who came to offer her congratulations |
| | |
| MPs who came to offer their congratulations | 92,622 signatures collected and ready to present to the Parliament |
At 8:30 a.m. over 200 Dafa practitioners lined up in good order and began to demonstrate the five sets of Falun Gong exercises, accompanied by the exercise music. The scene was splendid and magnificent. The peaceful, harmonious and powerful energy field drew the attention of many tourists who came to visit in buses. They stopped and watched and had an unforgettable impression of all they saw.
| | | |
| --- | --- | --- |
| | | |
| Introducing Falun Dafa to people in attendance | Practicing the exercise peacefully and harmoniously | Sending forth righteous thoughts together |
At 11:00 a.m. we were about to begin sending forth righteous thoughts, when suddenly the fire alarm siren went off inside the Parliament House. Many Members of Parliament and staff members came out of the Parliament House and stood at one side of the building on an arch-like slope, looking in our direction. We immediately changed our sending forth righteous thoughts to group practice of the exercises. We demonstrated the Falun Gong exercises and displayed Dafa's serenity and harmony.
At the celebration ceremony, Member of Parliament Mr. Anthony Albanese, who had signed the petition, accepted Dafa practitioners' petition signature forms to be presented to the Parliament for discussion. With the help of several practitioners, 92,622 signature forms in six boxes tied with colorful ribbons were delivered to the Parliament House. At the same time, Dafa practitioners unfolded huge banners, to express our thanks to the kind-hearted supporters who had signed their names.
Mr. Albanese said in his speech, "Australia is a democratic country. You have the freedom of belief." Senator Ms. Trish Crossin said in her speech, "I want to tell you, you are not alone, you have our support behind you."
At 1:00 p.m., Legislative committee member of Canberra's special administrative region, Ms. Karry Tuck said in her speech, "I'm sorry that the Australian government hasn't expressed its position with regard to the persecution of Falun Gong in China, but restrains your freedom of [peacefully] protest. I want to let you know that you may feel alone, but many Canberra citizens and Australian people very much support your freedom of belief, and support your right to protest not only in Australia but also in China. We can't betray our soul for the sake of trade. 'Truthfulness-Compassion-Forbearance' can't offend any person. I admire your unremitting endeavor for the Falun Gong practitioners suffering persecution in China to gain the freedom of human rights."
Members of Parliament who came to offer their congratulations also included Ms. Kay Hull and Mr. Frank Mossfield, an assistant to the House of Representative member Mr. Andrew Bartlett, assistant to MP Mr. Camevon Thompson and another assistant Mr. Ross Cameron and a representative of Amnesty International--Australia Section. John Deller expressed our gratitude to the guests on behalf of the spokesperson of Falun Dafa in Australia, and presented "thank-you" gifts to them.
Major media such as, Australian SBS TV Station, ABC TV Station, No. 7 TV Station and Win TV (Local NO. 9 TV Station), the Canberra Times came to cover the event.
Peacefully Appealing and Clarifying the Truth in Front of the Chinese Embassy
After the celebration ceremony, a senior police official of Canberra's special administrative region came over and told the host that according to the local law, banners are allowed to be displayed more than 100 meter away from foreign embassies. At 3:00 p.m. over 60 Dafa practitioners came to the T-shape crossroad between the Federal Boulevard and opposite Coronation Drive, 200 meters away from the Chinese Embassy. They unfolded huge banners imprinted with words in both Chinese and English, "Falun Dafa in Australia," "Return my right to cultivation," "Tiananmen Self-immolation is a staged event [of the Jiang regime]" "Jiang Zemin, immediately stop state terrorism." The practitioners sang together the Dafa song, "Falun Dafa is good." At such a busy traffic intersection and with the added effect of traffic lights, numerous people in vehicles and passersby saw Falun Dafa banners and learned the truth about Dafa. Local No. 9 TV Station reporters covered the event in detail and videotaped the event.
The three-day Fa-promotion and celebration activities in Canberra concluded successfully.