Beijing Drenched After Days of Rainstorms
(Clearwisdom.net)
According to information from the Flood Control Office of Beijing Water Conservation Bureau, 26 sections of roads in Beijing were inundated yesterday, with some sections under water as deep as 1 meter (about 3 ft). Seventeen sections under viaducts were inundated, with 14 of them under water of over 30 cm (about 12 in) deep. The most flooded road was the two-kilometer (1.25 miles) outbound section east of Zizhu Bridge, where the water covered the road as deep as 30 cm due to construction.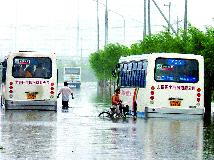 The heavy rain not only congested traffic but also forced a big outdoor farmer's market at Qiao Village of Tongzhuo to close due to the deep water and muddy road.
The rainstorm hampered traffic in many areas. Mr. Xu was driving past Yuquanying when his car shut off while passing through water under an overpass at 7:30 a.m. With help from some kind pedestrians, he finally pushed his car out of the half-meter-deep water after a half hour. Another driver had the same misfortune.
During the heavy rain, the most anxious were the students taking high school entrance exams. The flooding trapped them on road, and some had to get out of the cars or buses they were riding in and run on foot in order to be on time. It was the second day of high school entrance exams yesterday, but the rain in the morning and the day before caused traffic jams on many roads.