A Beautiful Memory: Commemorating the Eighth Anniversary of Master Li's Teaching the Fa in Jinan City, Shandong Province (Photo)
(Clearwisdom.net) June 23, 2002 is the eighth anniversary of Master Li's teaching the Fa in Jinan City, Shandong Province China. From June 21 to 28, 1994, at the invitation of the Shandong Youth Science and Technology Center and the Jinan Qigong Science Research Association, Teacher spared no effort to come to Jinan with other practitioners to hold the second session of the Falun Dafa seminar series at the Huangting Gymnasium. Over 4000 students from all over the country had the opportunity to respectfully listen to Master teach the Fa. At that time, the relevant departments in Jinan were also very supportive. The Bureau of Public Security in the Lixia District even sent policemen to help direct traffic each evening after the lecture ended. After the seminar series concluded, Teacher also authorized the sponsor, the Shandong Youth Science and Technology Center to issue the audiotapes of the Jinan Lecture.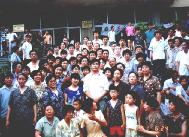 A group photo of Teacher and some practitioners from the south Licheng District, Jinan City.
Download High-resolution Picture
Under Master's compassionate teaching, Falun Dafa rapidly spread throughout Jinan city and Shandong Province. As of April 1999, there were nearly 500 practice sites in Jinan City with an estimated 40,000 to 80,000 practitioners. The people in the Shandong area warmly welcomed Falun Dafa. However, in July 1999, the Jiang regime started the brutal suppression, ruthlessly persecuting millions of kind and honest people. In the city of Jinan alone, over 300 practitioners were illegally sent to forced labor camps with terms as long as 3 years. Dozens of practitioners in Shandong Province have been tortured to death for refusing to give up their beliefs.
"How much longer can the evil run rampant? Every being's volition is fully revealed." ("Rectifying the Colossal Firmament," Essentials for Further Advancement II ). This is just the death struggle of the evil before the dawn. Let all of our practitioners in the Shandong area redouble our efforts to assist Teacher in rectifying the Fa and welcome the Fa-rectification as it enters the human world.