Falun Dafa Photo Exhibition Successfully Held in the City of Durban, South Africa (Photos)
June 25, 2002 | By practitioners from Durban, South Africa
(Clearwisdom.net) A two-week Falun Dafa photo exhibition opened on June 17, 2002 at the Menzi Mlunu Gallery in the City of Durban, South Africa. The local people thus obtained the opportunity to find out what Falun Dafa is about and the truth of the persecution of Falun Dafa practitioners by the Jiang regime.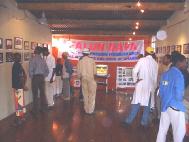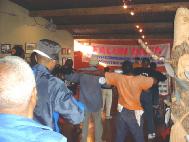 During the opening ceremony, practitioners introduced Falun Dafa and its beneficial effects to the visitors. They also demonstrated the Dafa exercises and taught the exercises to visitors who wanted to learn. In the photos above, the visitors were watching the exhibition and some of them were learning the Dafa exercises. One can also see "Falun" appearing on the photos.
Many visitors signed the guest book and the petition letter to condemn the Jiang regime's persecution of Falun Dafa practitioners. They expressed their support to Falun Dafa, which also established a good foundation for their future.