Ottawa Falun Dafa Practitioners' Boat Attracts Attention in Annual Flotilla (Photo)
May 26, 2002 | By an Ottawa Practitioner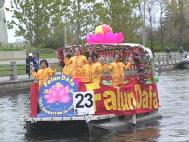 (Clearwisdom.net) May 19, 2002, Eight Falun Dafa practitioners from Ottawa and Montreal participated in the Canadian Tulip Festival's annual flotilla along the Rideau Canal. The attempted obstruction from the Chinese Embassy in Canada ended up in failure.
At the bow we displayed a poster board specially designed for celebrating the 10th anniversary of Falun Dafa's public introduction, and on each side of the boat we hung a banner with the words "Falun Dafa." Fresh flowers and lotus flowers only added to the splendour of the boat. Peaceful, beautiful Dafa music and songs could be heard all along the banks. Practitioners wore golden exercise suits and demonstrated the Falun Dafa exercises. They attracted the attention of lots of spectators on the banks. Many spectators waved their hands, applauded us and took pictures. Different from previous years, quite a few Chinese smiled to us approvingly. Many Chinese waved in greeting to us and took pictures as well. Some of them pointed at us proudly and cheerfully. The police patrolling the canal told us, "Your demonstration is extremely good!"
As soon as our boat stopped near the bank, many people came over to ask about Falun Dafa and requested Dafa introductory materials. The practitioners patiently answered their questions and left telephone numbers for further contact.