World Journal: Zhang Cuiying Condemns China's Persecution of Falun Gong (Photo)
(Translated from Chinese)
May 24, 2002 -- Boston. Chinese traditional artist Zhang Cuiying from Australia held her personal painting exhibition at the Massachusetts State Building. At the press conference of the opening ceremony, she talked about the torture she had suffered while detained in China's jail because she practices Falun Gong. She hopes that people will learn more about the facts of the inhuman treatment that the Jiang regime has used against Falun Gong practitioners.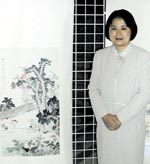 Zhang Cuiying and her painting entitled "Children Playing", photographed by Yang Yuqing
Zhang Cuiying said that she started to learn painting at age of 10 and in the 1990s moved to Australia to develop her career. Five years ago she suffered from arthritis severe enough to make eating and walking difficult. In fact, she almost became paralyzed and lost her ability to paint. It was a life almost not worth living, but practicing Falun Dafa rectified all of these maladies and gave her a second chance in life. She was able to paint again. When she learned of the Falun Gong practitioners in China being persecuted, she returned China to appeal to the Chinese government. However, she was arrested and thrown in jail. She said that she was brutally beaten and abused, and even thrown into a male cell and incarcerated with an inmate with mental illnesses. Finally an inmate, after being released from jail, wrote to Zhang Cuiying's husband about her situation and hoped that the family could rescue her. Through the efforts of the Australian Ministry of Foreign Affairs, Zhang Cuiying was released and regained her freedom.
Zhang Cuiying thinks that it is because she is an Australian citizen that she was able to get out of the jail alive. In China there are many Falun Gong practitioners who are being tortured. She appeals to the international community to pay attention to this serious issue, extend their helping hand to rescue those Falun Gong practitioners and restore their basic human rights.
In addition to helping to organize the painting exhibition, Massachusetts State Representative Byron Rushing also spoke at the press conference. He expressed that the freedom of speech and freedom of religious belief is very important. He hopes the Chinese government could allow different religions and beliefs. Only by doing this will China be more diversified and more energetic. He also hopes everyone will try his or her best to rescue those Falun Gong practitioners being persecuted in China.
Zhang Cuiying showed many works of hers, including paintings on various subjects, as well as "100 Koalas in Different Postures," which won the gold medal at the Australian Asian Pacific Chinese Painting Exhibition. Her works have been on tour in over 20 countries and over 60 cities. Zhang Cuiying said she hopes to help people around the world learn about Chinese culture through her paintings, appreciate the beauty in the paintings and feel the power of "Truthfulness, Compassion, Forbearance."