Clarifying the Truth at the Asian Festival in Charlotte, North Carolina (Photos)
(Clearwisdom.net) On Saturday May 11, 2002 the city of Charlotte celebrated its 3rd Annual Asian Festival in honor of Asian heritage and the Asian culture present today in North Carolina. The festival took place in downtown Charlotte at Marshall Park. Practitioners from Chapel Hill and Durham joined the practitioners in Charlotte to sponsor a booth at the festival, offering information on the practice of Falun Gong in the English, Chinese, Vietnamese, and Korean languages and demonstrating the exercises for attendees to observe.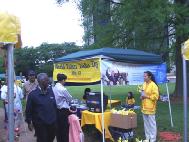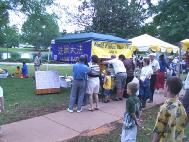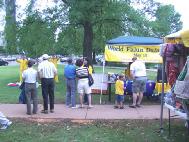 The festival was a pleasant experience for both attendees and Dafa practitioners. The Falun Gong exercise video demonstration attracted many Chinese to the booth with expressions of interest. Many people who knew of Falun Dafa and the persecution in China conversed with the practitioners at the booth and took flyers. Others had the opportunity to learn about Falun Dafa for the first time, asking about the practice and local practice site. Numerous children were excited to receive pinwheels. One Vietnamese practitioner seized the opportunity to clarify the truth to many Vietnamese attendees, providing them with Dafa literature in their own language.
| | |
| --- | --- |
| | |
| | |
Many watched while practitioners demonstrated the 5 exercises nearby, and many passersby took photos through the course of the day. Throughout the afternoon, the strong energy field became more and more evident. Many Chinese people examined the poster in Chinese featuring the exercise demonstration. There were even a few people walking by who stretched their arms as in the movements of the first exercise. A television station filmed the practitioners while doing the exercises. One young girl approached the group and mirrored the practitioners for a complete set of the 4 standing exercises in a very calm and precise manner, needing no assistance with the various postures. This beautiful sight sent smiles to the faces of the practitioners at first glimpse. Also, in the afternoon, while sending righteous thoughts at the top of the hour, three children came and joined practitioners in jieyin.
Due to interference of the Chinese Consulate, North Carolina practitioners had stipulations placed upon them for this year's festival. No flyers could be passed out and no material on the persecution could be present. However they did allow us to have a booth this year, unlike the past year, and attendees asked practitioners for both verbal and written information, mentioning their awareness of the persecution. Two practitioners learned that policemen at the festival were told to keep close watch on the Falun Gong booth, yet once one Vietnamese policeman learned what Falun Dafa is and noticed the warm and friendly demeanor of the two practitioners, he realized that special watch for the Falun Gong group was totally unnecessary.
One Vietnamese man attended the local practice in Charlotte the day after the festival. At the closing of the day, Dafa practitioners were very happy in having clarified the truth to the Charlotte community.