Demonstrating the Exercises at Fengming High School Anniversary Game, Yingge, Taiwan (Photos)
May 23, 2002 | Taiwan Dafa Practitioners
(Clearwisdom.net) About 9:30 a.m. on May 18, 2002, around 120 Falun Gong practitioners from Taoyuan and Sanying Districts were invited to demonstrate the exercises at Fengming High School.
Though it had rained heavily during the previous two days, the weather was nice that morning. Many practitioners brought their families to participate in the activity, thus there were many children wearing yellow T-shirts. A practitioner introduced Falun Gong to the audience and explained some of the benefits practitioners have enjoyed both physically and spiritually. He announced that there would be a morning practice from 5:30 a.m. to 6:30 a.m. at the school and that everyone was welcome to attend. After the completion of the demonstration, the school issued an appreciation letter for their participation in the event.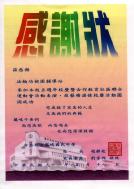 Translation of the letter:
Appreciation Letter
This letter is issued to show our appreciation to the Taoyuan Falun Gong Assistant Station for demonstrating the exercises at the school's 5th anniversary game and for it's contribution to the community's cooperative education. The skillful demonstration helped the success of the anniversary's celebration.
You are establishing a perfect human life.
You are becoming our model.
The Fengming School students thank you.
Fengming School
May 18, 2002
During the demonstration, some practitioners introduced Falun Gong to students' parents and guests. One lady asked for the time and location of exercise instruction for her husband. She said that she practiced at home for a while and had not found a practice site nearby. She did not know that there were practice sites and Dafa classes in the town until she saw us.