Tampa, Florida Dafa Practitioners Clarify Truth To the Governor Face to Face (Photos)
At about 11 a.m. on May 16, 2002, Florida Governor Jeb Bush and other officials came to the University of South Florida to sign the new education bill. Tampa city Falun Dafa practitioners talked to the Governor face to face and asked him to request Jiang's regime to stop persecuting Falun Gong.
Governor Bush first shook hands with a Falun Dafa practitioner at the entrance. The practitioner briefly introduced his personal experiences of being persecuted because of practicing Falun Gong and he asked for the help of the Governor. Governor Bush replied firmly, "Absolutely". He took the materials the practitioner prepared for him and said that he would look into this matter.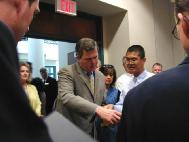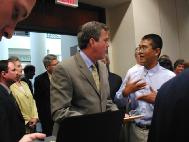 Practitioner clarifies the truth to the Governor Bush

When the officials were leaving, our practitioners approached Lieutenant Governor Frank Borgan and talked about the persecution of Falun Gong in China. Lt Governor accepted the truth-clarifying materials and expressed his deep sympathy. He wished good luck to the practitioners and took a photo with the practitioners.
| | | |
| --- | --- | --- |
| | | |
| Photo with Lt. Governor | Practitioner shakes hands with Governor Bush | Governor Bush signs on the page of "Florida Falun Dafa Day" proclamations in truth-clarifying brochure |
Before the officials left, another practitioner had a chance to talk to Governor Jeb Bush. She asked the Governor to sign on the page about Falun Dafa proclamations from Florida State in a truth-clarifying brochure. The media at the site immediately took photos. The university newspaper reporter held a follow-up interview with the practitioners.
During the event, practitioners remembered that we are not just asking for help from the officials in the human world, but we are also clarifying the truth to them and saving them. We are giving them the chance to position themselves (including all the people under their jurisdiction) justly. The practitioners kept righteous thoughts all the time and the effect of Fa-promotion was good.