Delaware State Practitioners Hold "Journey of Falun Dafa" Photo Exhibition (Photos)
(Clearwisdom.net) On May 13, 2002, Delaware State Falun Dafa practitioners held a two-day "Journey of Falun Dafa" photo exhibition at the student center of University of Delaware.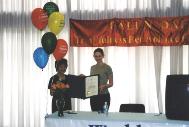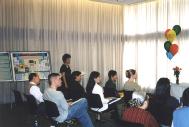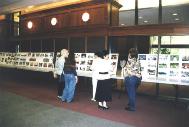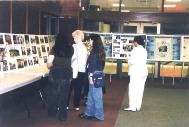 At 11:00 a.m. on the morning of May 13, the opening ceremony started and proclamation of Falun Dafa Day from the Governor of Delaware State Ruth Ann Minner was announced. It wrote, "Whereas the great compassion and tolerance displayed by Falun Dafa practitioners under the most severe environments has touched the hearts of the people throughout our states, nation and world; Now, therefore, we do hereby declare May 13, 2002, Falun Dafa Day in the State of Delaware, and urge all Delawareans to recognize and support the practitioners of Falun Dafa, both within the first state and throughout the globe." A representative of State Assemblyman Roger P. Roy also attended the ceremony, and issued the tribute signed by the House of Representatives, expressing their congratulations to the 10th anniversary of Falun Dafa's public introduction and the photo exhibition. In addition, State Senator Margaret R. Henry and State Representative Richard A. Diliberto, Jr. also sent congratulatory letters. A Practitioner made a 20-minute speech entitled "Journey of Falun Dafa," reviewing Falun Dafa's wide spread over the last ten years, (and) today's huge tribulation, the Falun Dafa practitioners in China facing the vicious persecution. After the ceremony, the video "Peaceful Journey of Falun Dafa" was shown.
After the guests viewed the photos, one guest left words on the guest book, "I think Falun Dafa is so wonderful. The Chinese (Jiang's) regime should be denounced and opposed for brutally abusing and mistreating so many Dafa practitioners." Another guest wrote, "The exhibit is so interesting and extraordinary. I have understood the inner meaning of Falun Dafa and noticed that Falun Dafa practitioners in China have been deprived of their basic freedom as citizens (by the Jiang's regime). Please let me know how I can help and support this movement."