U.S. Congressman in New York Writes Congratulatory Letter for World Falun Dafa Day
Mr. Thomas Reynolds, United State Congressman in New York, wrote a congratulatory letter for World Falun Dafa day on May 13 2002. Here is the letter:
To: Friends of Falun Gong:
I would like to extend my congratulations on the occasion of the 10th annual World Falun Dafa Day. You have much to celebrate.
Countless individuals experienced significant improvements in their health and lives through the practice of Falun Gong.
Though absent of central organization, Falun Gong has transcended cultural and racial boundaries, and unified practitioners from the East and West through its universal principles.
The Falun Gong principles - Truth, Compassion, and Tolerance - are held by people across the world, practitioners and non-practitioners.
But those who feel threatened by the peaceful practice of these universal principles have not been able to extinguish Falun Gong. Instead, Falun Gong grows stronger.
I wanted you to know that I share your commitment to human rights and dignity. I look forward to when the universal principles of Truth, Compassion, and Tolerance, along with Life, Liberty, and the Pursuit of Happiness, are enjoyed around the world.
Sincerely
Thomas Reynolds
United States Representative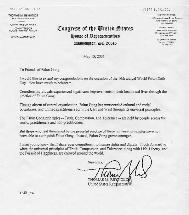 Download High Resolution Image