Practitioners in Stuttgart, Germany Celebrate 10th Anniversary of Falun Dafa's Public Introduction (Photos)
On May 14, 20 practitioners from Stuttgart area got together in a park to celebrate the 10th anniversary of the Public Introduction of Falun Dafa to the World.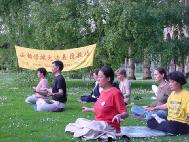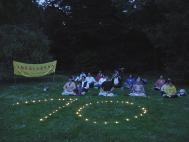 At dusk, practitioners lit candles and formed a number 10 and sang Dafa songs together. Many people visited the park during the day, showing great interest in Dafa.