Zhang Cuiying's Painting Exhibition is Ceremoniously Held in Salzburg, Austria (Photos)
(Clearwisdom.net) On May 10, as the 10th anniversary of the public introduction of Falun Dafa was coming up, Zhang Cuiying held her second painting exhibition in Austria in the renowned art city of Salzburg. The painting exhibition was held in grand fashion at a famous luxury hotel located in downtown Salzburg. At the opening ceremony, Ms. Zhang brought forth to nearly a hundred visitors the profound meaning of Chinese traditional arts rooted in the principles of Truth, Compassion, Forbearance. She also used her own experiences in China to expose the Jiang regime's brutal persecution of Falun Gong practitioners. Local newspapers published advertisements of the exhibition and sent reporters to attend the opening ceremony.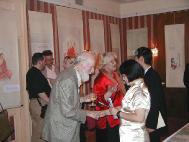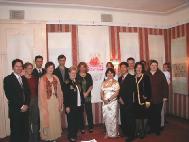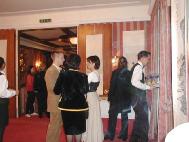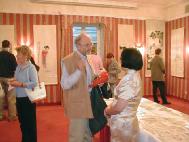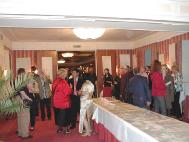 During the ceremony, the dean of the Mozart Conservatory gave the opening remarks. He especially praised Zhang Cuiying's courage while facing the persecution. He pointed out that people should all reach out helping hands in the face of injustice. Then Ms. Zhang introduced visitors to the meaning of each painting and the reason behind it. Nearly a hundred visitors were deeply touched by the profound connotations displayed in her paintings. Many visitors took photos with Ms. Zhang and ask her to sign her autograph as a memento.
Upon viewing Ms. Zhang's painting, a history and language teacher was very excited. He said that this exhibition is about Truthfulness, Compassion, Forbearance. He also commented that through his research on mankind and history, he finds that many people's virtue and wisdom is correlative to God and compassion, and that from Ms. Zhang's paintings, he further feels this concept.
Through this painting exhibition, many people came to know Falun Dafa and learned of the true situation. Upon practitioners' invitation, a chief member from a human rights organization in Salzburg attended the opening ceremony. Practitioners had the chance to have a long talk with him about the Jiang regime's persecution of Falun Gong practitioners. He left Ms. Zhang the following words:
Wonderful journey
From ancient times
To the present
Take heart and
Keep on being encouraged