2002 Canada Falun Dafa Cultivation Experience Sharing Conference Solemnly Held in Toronto (Photos)
(Clearwisdom.net) On the morning of May 18, 2002, the fifth Canada Falun Dafa Cultivation Experience Sharing Conference was solemnly held at Sheraton Hotel in Toronto. The conference hall that holds 2300 people was full. Falun Dafa practitioners of different races from different countries and regions around the world were gathered here. The countries and regions included several European countries, Singapore, the United States, Taiwan, Indonesia, Japan, Russia, Hong Kong, Thailand, Germany, Sweden.
On the podium, our revered Teacher's portrait hung in the center, and on its two sides were two big Falun emblems. On the vertical stroke in the right side of the hall these words were written, "Save the sentient beings," on the left was "Create the future." Fresh flowers in front of the podium only added to the bright atmosphere.
More than ten Dafa practitioners gave speeches. The topics practitioners shared included: how to clarify the truth about Falun Dafa to the governments, the media and different communities; how to make good use of the telephone and computers to clarify the truth to the precious Chinese people and improve ourselves in the process. Dafa practitioner Zhao Ming from Ireland shared his understanding of Dafa practitioners being one body.
In the afternoon, the conference began with a short film entitled, "Heaven and Earth Celebrate Together -- the 10th Anniversary of Falun Dafa's Public Introduction."
On Sunday, May 19, the conference continued. Several more Dafa practitioners gave their speeches. They shared their experiences on how to break through the information blockade in China and how Dafa practitioners have persisted in clarifying the truth in Toronto's Chinatown, rain or shine. They also shared their understanding of Dafa practitioners' candidness, tolerance, mutual understanding and support, as well as doing Fa-rectification work well while studying the Fa well.
At noon before the conclusion of the conference, two Dafa practitioners read aloud Teacher's congratulatory message for the complete success of Canada Falun Dafa Cultivation Experience Sharing Conference, and after that, they read aloud Teacher's new article, "The Blessings of Dafa."
Several dozen congratulatory messages sent by MP's (Member of Parliament) of the Canadian Parliament, provincial MP's and non-governmental organizations and recognitions issued for Falun Dafa were also announced.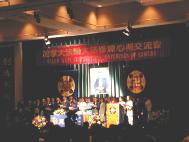 Finally, a group Dafa practitioners went on the stage and sang the song "Tribute to the Ten-year Fa-Rectification."