Celebration of World Falun Dafa Day in Greater New York City Area Reaches a Climax (Photos)
May 17, 2002 | By New York Practitioners
On May 13, about 400 practitioners from New York City, Connecticut, Philadelphia held two grand ceremonies in Brooklyn and Manhattan and pushed the celebration of World Falun Dafa Day and the 10th Anniversary of Falun Dafa introduction to a new height.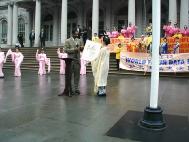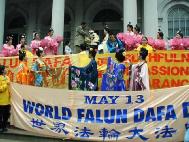 In the morning, practitioners in ancient Chinese costumes and practice uniforms gathered in front of Brooklyn City Hall under a light rain. At 10 am, the press conference started. Deputy Borough President Yvonne Graham on behalf of Borough President Marty Markowitz issued proclamation to Falun Dafa. City council member James E. Davis and State Representatives for Felix Ortiz, Nick Perry and Congressman Edolphus Towns and other officials delivered congratulatory speeches, issued proclamations or supporting letters to celebrate World Falun Dafa Day. Practitioners performed dances and sang Dafa songs.
Then led by dozens of practitioners in Feitian (flying heavenly girl) costumes, 400 practitioners held colorful banners that read Falun Dafa Hao and huge vertical banners held aloft by large balloons reading World Falun Dafa Day" and walked across the famous Brooklyn Bridge crossing over to Manhattan. Viewed from afar, the parade procession was like a colorful dragon flying through the sky in a light fog. It was truly magnificent. When the parade procession reached New York City, female practitioners in beautiful costumes danced elegantly which attracted many onlookers. Many acquired flyers from practitioners.
In the afternoon, the grand celebration ceremony was held in New York City Hall. Before the ceremony, practitioners performed dances and demonstrated Dafa exercises. At the beginning of the ceremony, representatives from the Falun Dafa Information center read a media statement for the occasion of the 10th anniversary of Falun Dafa's introduction to the public. Then City Council member Allan W. Jennings issued a proclamation to Falun Dafa. Representatives for State Representatives Adriano Espaillat, Scott M. Stringer, Edward Sullivan and US Representative Thomas Reynolds issued proclamations or supporting letters.
New York City Councilman Allan W.Jennings and Elizabeth Rodriguez, representing State Representative Adriano Espaillat on behalf of New York City people presided at the cake-cutting ceremony for Master Li's birthday. Applause resonated across City Hall. Then practitioners representing eleven countries around the world wished Teacher Happy Birthday in their native languages.
Then practitioners paraded through busy downtown streets and into Manhattan's China Town. Along the route, many Chinese people accepted flyers. Some vendors put a small Falun Dafa flag on their store fixtures to show support for Falun Dafa. When passing China town, practitioners played a broadcast about Dafa's origin, spread and beneficial social effects and disclosed Jiang's regime's ruthless repression over the past three years. Moving along the parade procession was a large sign truck with a huge picture showing practitioners practicing in the park.
The celebration in China Town experienced severe interference from the evil. When the parade started, some people with ill intentions tried to infiltrate the parade line and were expelled. When the parade reached a corner in the center of China town, a loud mob of people shouted slanderous slogans defaming Falun Gong. Suddenly dark clouds covered the sky and a heavy rain poured down. Practitioners remained steadfast and sent forth righteous thoughts to eliminate the evil. The rain gradually became lighter. Then when practitioners held art performances at Columbus Park, people from the original shouting mob again tried to disrupt the celebration activities. In the half hour ensuing, heavy rains again fell down upon practitioners. Practitioners first practiced the exercises and then stood completely still in the pouring rain like gods soaring into sky and sent forth righteous thoughts for a long time until the rain subsided. The shouting group of people disappeared without a trace. While some practitioners continued to send forth righteous thoughts, other practitioners continued to perform the programs they planned. Some policemen were deeply moved by practitioners' determination.
Reporters from major Chinese and English media including World Daily, Tsingdao Daily, Mingbao, Epoch Times, AP, VOA, Bay News, Daily News reported the events and interviewed practitioners.