Canadian Practitioners Start Series of Activities To Celebrate World Falun Dafa Day
May 14, 2002 | By a Toronto Practitioner
From the ancient past to the present, having experienced numerous tribulations and difficulties, we finally are so fortunate to have an unprecedented opportunity to obtain Falun Dafa. We can hardly find any human words to express our gratitude to the Teacher who saved our lives. All Canadian practitioners speak from the bottom of their hearts:
Greetings, Teacher!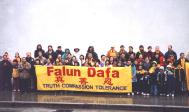 Starting May 11, 2002, practitioners in Canada launched a series of activities to celebrate the 10th Anniversary of the introduction of Falun Dafa to the public, World Falun Dafa Day and Canada Falun Dafa Festival from Montreal and Ottawa to Vancouver in the west, from Toronto (which means "a place to meet" in local Indian language) to Edmonton.
At the Tulip Festival of Ottawa, practitioners' peaceful demonstration and colorful balloons imprinted with "Falun Dafa is Good" and "Truthfulness Compassion Forbearance" brought happy smiles to the visitors and their children. People were immersed in this happy and peaceful environment.
There will be an opening ceremony in Toronto today to initiate the series of celebrations. The History Association of Ontario, Ontario Branch of United Nations Human Rights Commission and Dance Teams of different cultures will attend. An old man good at paper-cutting crafts will cut paper into characters reading, "Truthfulness Compassion Forbearance" for visitors at the party. Some members of the provincial legislature, city councilmen and famous Canadian attorneys will also attend the ceremony.
We will follow up on the series of celebrations in the coming days.