British Falun Dafa Practitioners Commemorate the Third Anniversary of 4.25 Appeal - A Report from London (Photos)
April 25th is a notable day in human history. Three years ago, on April 25, 1999, over 10,000 Falun Dafa practitioners peacefully appealed in Beijing requesting the government to release fellow practitioners who had been illegally arrested in Tianjin (a nearby city to Beijing). Ten thousand pioneers exploring the truth of the cosmos composed a beautiful melody for late comers. On this special day, about 50 practitioners from all areas of UK gathered in London and launched a series of activities to commemorate the third anniversary of 4.25 appeal.
1. Press Conference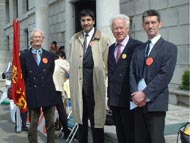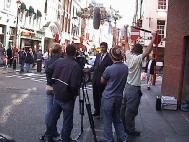 At 10:30 a.m., practitioners gathered across the road from the Chinese Embassy and started by sending forth righteous thought together. Next, Mr. Peter Jauhal of UK Falun Dafa Association hosted a press conference. The first speaker, Lord Moyne, condemned Jiang's Regime for the brutal persecution that has lasted nearly three years. He called on the British government to keep pressure on China to stop this inhuman suppression of Chinese Falun Gong practitioners. A 90-year-old practitioner and former UK diplomat, Mr. Francis talked about his personal experiences and benefits after practicing Falun Gong. He cited the former Soviet Union and Eastern Europe as examples of how despotic system that attacked and persecuted humanity were actually digging their own graves. The Jiang Regime's suppression against "Truthfulness Compassion Forbearance," the common principles for all human beings, is in fact infringing on all human beings of the world.
Mr. John Dee, vice president of Friends of Falun Gong of Europe, delivered a speech expressing his concern about the situation of Falun Gong practitioners in China. Especially after March 5, 2002, (Changchun City Falun Gong practitioners used Cable TV system to broadcast truth-clarifying video programs to Changchun residents), Jiang escalated the suppression and over 5,000 practitioners have been arrested in Changchun city alone. He called on all kindhearted people to join the effort to help Chinese Falun Gong practitioners to win the battle of freedom of belief.
During the press conference, practitioners continuously sent forth righteous thoughts together to eliminate all evil damaging Dafa.
2. Parade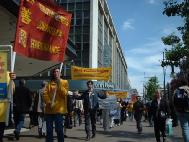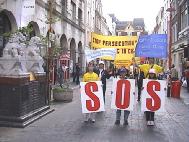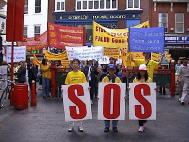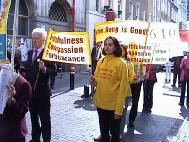 At 12 o'clock noon, the parade started from the Chinese Embassy to the Prime Minister's Office with Dafa music Pudu and Jishi playing along the way. Three practitioners holding the "SOS' banner lead the parade, followed by practitioners with many other banners. The solemn and serene parade passed through busy London streets. Many people stopped to watch and ask for truth-clarifying materials. Many people who had already learned about Falun Dafa used hand gestures and words to express their support and respect. When the parade passed by Chinatown, many Chinese people came out from restaurants and stores to watch. Many Chinese people accepted the truth-clarifying materials. Some of them also asked about the details and where they could learn the exercises. It is clear that Jiang regime's lies and fabrications against Falun Gong have no market among overseas Chinese.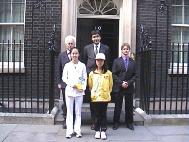 At 4 p.m., the parade reached the Prime Minister's Office at No. 10 Downing Street. A few representative practitioners handed over an appeal letter, while other practitioners stood on the sidewalk silently and sent forth righteous thoughts together.
3. Falun Dafa Practitioner Zhang Cuiying's Painting Exhibition
At the same time, an art exhibit of Zhang Cuiying's work was held in London. Ms. Zhang is an Australian citizen who went back to China to appeal for Falun Dafa and was imprisoned for eight months.
During the exhibition, many people came to see her paintings. At the same time, the Journey of Falun Dafa photos were also displayed. People were surprised and could not understand Jiang regime's evil persecution after they saw Ms. Zhang's beautiful paintings and the persecution photos in the Journey of Falun Dafa. The visitors came to know the truth of Falun Gong when viewing the paintings and photos. People asked for Dafa literature and asked for information about the persecution of Falun Gong practitioners. A few people even wanted to learn Falun Gong and asked for contact phone numbers for practice sites.
4. Candlelight Vigil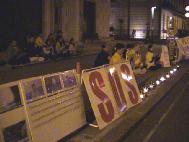 Practitioners returned to the site in front of the Chinese Embassy at 7:30 p.m. They practiced the exercises and sent forth righteous thoughts every hour to eliminate the evil in other dimensions. At night, the wind was cold but the practitioners' hearts were even warmer. They lit candles and sat in silence to commemorate the over 400 practitioners tortured to death by Jiang's Regime.
The activities came to a conclusion at midnight.
During the day, two large media outlets interviewed and televised our activities. BBC also scheduled a 15-minute live interview and invited Mr. Peter Jauhal of UK Falun Dafa Association and an official from the Chinese Embassy. In the face-to-face confrontation between Compassion and Wickedness, Truth and Lies, the official from the Embassy appeared guilty as a liar, so that the BBC program director questioned him in a probing and critical manner. Another TV station from America also interviewed Mr. Peter Jauhal in Chinatown.
April 25th will always be a memorable day. Three years ago, ten thousand Falun Dafa practitioners demonstrated to the world that Dafa practitioners would safeguard the truth of the cosmos even when facing the danger of losing their lives. It encourages other practitioners to break away from selfishness and dive right into the mighty torrent of Fa-rectification.