Strange Scene in Goslar (Germany) -- Manhole Covers on the Streets were Welded Shut
(Clearwisdom.net)
Note from Translator: Wherever Jiang goes, he disturbs the peace. Hatred follows him everywhere. This dictator brings his violent government with him to every corner of the globe.
Goslar, the ancient little town in Germany that used to be peaceful and pleasant, was filled with tension and discontent because of Jiang Zemin's visit. As if the city were in a state of siege, almost the entire town was under curfew. All of the stores on both sides of any street that Jiang would pass were ordered closed by 4:30 PM. If anyone stayed in the stores past 4:30 PM., that person could not come out for two hours during Jiang's visit. All customers at the windows had to be seated with their backs towards the street. Because of these impossible rules, the owners were forced to close their doors by 4:30 PM. The citizens of Goslar felt like their peaceful little town was under martial law. It was too reminiscent of Nazi rule.
Jiang Zemin made no secret of his real purpose. He had so many enemies, that he could never feel safe.
*************
Goslar News published an article entitled, "The Heat of China is Spreading -- Jiang is Here Today" in the April 12, 2002 issue. The article described the discontent of Goslar's citizens on the day when Jiang arrived. Below are excerpts from that article.
Stores changed their hours; businessmen canceled their meetings; concerts were delayed to another day; the citizen hotlines were overloaded; manhole covers on the streets were sealed; police asked everyone to detour around the city on that Friday -- everything had to run according to Jiang's agenda.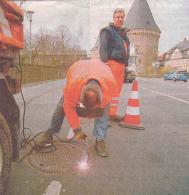 (Highest level alert: manhole covers on the streets on the route were all welded shut)

The Chinese visitor required security as if he was in China. About 730 police were needed for him to feel protected. This does not include the personnel in helicopters and at key hidden military points...

The activities of merchants, businessmen, and restaurant customers were all restricted during Jiang's visit. A butcher could not meet his delivery schedule, because he could not predict how long would it take him to get there...

A barber told his customers ahead of time that he had to close his store that afternoon. One elderly woman from the northern area of Germany heard the barber's excuse, "because the Chinese are coming." She replied humorously, "Why the Chinese? We used to say all the time, the Russians are coming."

A concert of Schumann, Mozart, Schubert, and Handel was postponed, because the musicians did not want to perform in front of an empty concert Hall. People had to come the following afternoon to enjoy the music.