"Circle Surrounding the Sun" Appears in Wuhan City and "Blood Fever" Breaks Out in Hebei Province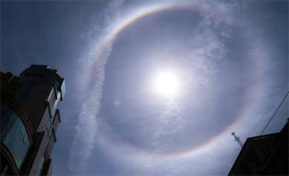 (Clearwisdom.net) On April 21 2002, the weather in Wuhan, the capital city of Hubei Province, was sunny and the temperature suddenly rose drastically. From 1:00 p.m. to 3:00 p.m., a bright, colorful circle appeared around the sun.
Recently an infectious disease named "blood fever" broke out in Xingtai City, Hebei Province. It causes fever and no medicine seems effective. Up to now there have been several cases of death. The entire Xingtai City started a wave of vaccinations. All residents from one-month-old babies to seventy-year-old seniors need to be vaccinated in order to prevent the spread of this infectious disease.