Falun Dafa Study Camp for Schoolteachers in Keelung City, Taiwan (Photos)
Over 40 schoolteachers attended Keelung Falun Dafa Study Camp for Schoolteachers held in Zhongzheng Junior High School. The nine-day study camp was held from January 23 to 31. The content of the class included Master Li's nine-day lecture videotapes in Guangzhou as well as the story of Falun Gong around the world and truth clarifying videos, learning Dafa exercises and experience sharing from scholars who practice Falun Gong.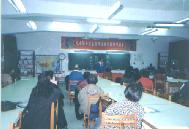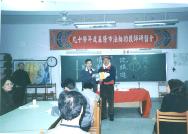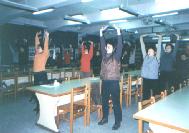 On the second day, reporters from Keelung TV Station and China Daily came to interview practitioners. Keelung TV reported the event 4 times throughout the day in their new program. At the closing ceremony, several schoolteachers talked about their experiences from the class. Mr. Zhang said, "Falun Dafa Hao, Falun Dafa is righteous Fa." Mr. Liu said, "I feel my whole body relaxed. I already started morning exercise at the practicing site close to my home." Ms. Wang said, "I just know they are such wonderful group of people in the world. I understand the principle now. My whole heart opens to it."