Missouri Practitioners Talk about their Experience in Beijing
On the afternoon of February 17, Practitioners from Kansas and Missouri held a press conference at Plaza Fountain Park to welcome David Snape and Sara Effner back from China.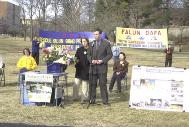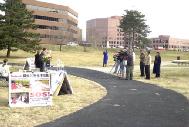 Since February 14, major media in Kansas and Missouri carried the stories of western practitioners' appeal in China extensively. Appeals by western Falun Gong practitioners and their subsequent detentions have drawn the attention of society. From government officials to normal citizens, they all tried their best to rescue the practitioners and bring them back to the US.
Congresspersons actively contacted Chinese officials for practitioners' prompt release. They also kept contact with the practitioners' families. Congressman Moore demanded the immediate release of the practitioners without harm. In his statement, Mr. Moore said that he was very concerned about the situation of Chinese Falun Gong practitioners who are being persecuted in China. "They are appealing for their rights of basic belief. I hope in the near future Chinese people will regain their basic human rights of freedom of belief."
At the press conference, Sara and David expressed their sincere appreciation to the American government and others in their rescue efforts to bring them home. They also shared their experiences in China.
Regarding the harsh treatment they received in China, Sara and David said they did not regret making the trip. They went to Tiananmen Square to appeal for an end to the torture and killing of Chinese Falun Gong practitioners. They hope through their actions they showed Chinese people that Falun Dafa is good and let them know the truth. They also urged kind people around the world to stand up and uphold the basic human rights of Falun Gong practitioners.
The press conference lasted over one hour. Major TV stations reported the event during their news hour, and the major local newspapers Kansas City Star and Johnson County Sun carried the stories.
One thing worthy of mentioning is that now, many Kansas City residents know about Falun Gong, as local practitioners have been constantly receiving phone calls inquiring about information on learning Falun Gong.